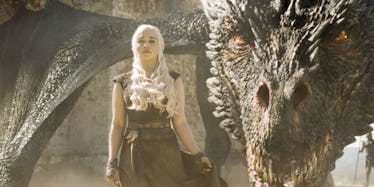 These 'Game Of Thrones'-Inspired Lipsticks Are Proof That Winter Is Coming
HBO
After a riveting season finale that drew more viewers than ever before, Game of Thrones fans are kind of depressed. Season 8 will be the final rendezvous in the world of Westeros, and it's rumored to not air until 2019. On the bright side, the Game of Thrones loyal have ample time to speculate about how the story will end, and there's never a better time to passionately obsess over your fav show than before it glides into the Great Unknown. It's an exciting time, and fans are already freaking out over a truly fire way to fill the void: the upcoming Storybook Cosmetics Dragon Lipsticks.
The fantasy-inspired beauty brand took to Instagram to tease dragon-skin textured lipsticks, and they're so straight out of Game of Thrones. So far, there are silver, bronze, and gold cases, and the silver container boasts a dark red bullet (not far from the Red Woman's earthy crimson). The brand provided no indication of what the bronze and gold tubes are packing, so at this point, it's anyone's guess.
A milky nude à la Daenerys Targaryen? As the Mother of Dragons, the Queen of Going Out Tops, and peak style inspiration from the show, the brand would be foolish to not denote a shade to Dany. How cool would a surprise, DGAF clear balm in the name of the cunning Arya Stark be? Or perhaps Cersei Lannister will inspire a rosy neutral shade, best sported on perma-pursed lips.
Based on the brand's other lip products (liquid lipsticks at $14 a pop), the lipstick named after high-flying beasts may be entirely within reach, at an affordable price. However, those ready to slay the dragon lip game are facing a delay: After first hinting the release would be fall 2017, the brand later announced a hold-up, citing early design issues. According to Storybook's latest Instagram, the "new Dragon lipsticks needed some revamping and the prototype is finally finished and approved! We are hoping to have these for sale by the holidays but more likely it will be early next year."
Looks like future fire-breathers will have wait to until the holiday season, at best. But if the other Storybook Cosmetics launches (which include Bachelorette-style rose makeup brushes and a Hogwarts-esque Witchcraft & Wizardry eyeshadow palette) are any indication, the Games Of Thrones lipstick, like the final season, will be worth the wait.