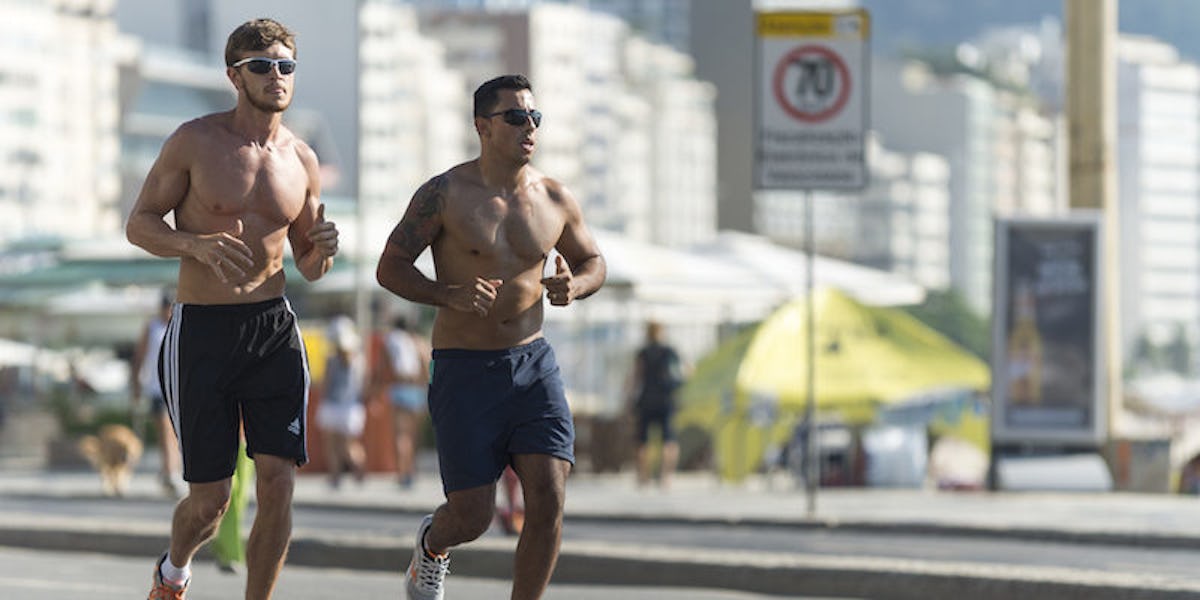 These 12 Cities Are Where You're Most Likely To Find True Love This Summer
Shutterstock
Traveling over the summer is all about getting out of your routine and escaping for a bit, and it's always better when you have someone to share that time with.
If you're looking to find true love this summer, there are a few cities in the United States that will be ideal. Whether you're thinking about a weekend trip or a summer internship, these are the places to go to find a summer beau.
This list comes from Forbes' latest ranking of the best cities for single people. It's a comprehensive ranking cross-referencing several different studies of cities to determine which are the legit sweetest places for those going solo.
These cities have it all: high numbers of attractive single people, ample spaces to meet up and reasonable costs for dates and nightlife.
Here are the best places to find your summer fling and, who knows? It could turn in to so much more.
1. Atlanta, Georgia
Atlanta is a fantastic summer destination -- and a damn good place to find a summer romance. Whether you're getting romantic at the Georgia Aquarium or athletic at the Centennial Olympic Park, there is so much to do in the ATL. Put on some Outkast and enjoy the city.
2. San Francisco, California
The home of the tech world's biggest (and youngest) giants is also home to a high number of America's singles. Last year, researcher Jon Birger caused a stir with a book about dating statistics.
According to Birger, San Francisco is great if you're a single, straight female, due to a gender imbalance. So use your technical thinking skills before heading out in search of true love.
3. Minneapolis, Minnesota
A city like Minneapolis really comes to life during the 20 days of the year when it's warm enough to go outside!
We kid, but there is definitely something about having a limited amount of time to be able to enjoy the sunlight that makes people frenzied in a super fun way.
4. Austin, Texas
Austin is quite possibly the coolest city in the United States, so it makes sense this would be a great place to find a summer fling. It's becoming a hot destination for bachelorette parties -- and with good reason.
Austin is a fun, vibrant city with lots of culture, music and young people.
5. Boston, Massachusetts
Like Minneapolis, Boston comes to life when the city thaws out for the summer. Not to mention, with a whole bunch of colleges, students take in the summer with vigor.
Take a run along the Charles River or sail through it, and be sure to check out the pub life. And if you're a history nerd, go and get your America on touring the city in search of historical hotties.
6. Cleveland, Ohio
It may seem like an odd place to go on a summer trip, but Cleveland is full of young people checking out the city for work and more low-key adventures. See what (and who) the city has to offer.
7. Los Angeles, California
This is a little more of an expected choice. Los Angles is an ideal place for both a vacation and a summer fling. The city is filled to the brim with gorgeous singles waiting to be noticed.
Hit the beach, wander through the city or hike to the Hollywood sign. You really can't go wrong.
8. Tampa, Florida
We'll take any excuse to spend some time on Florida's beautiful beaches. And as an added bonus, Tampa has an influx of young beach bodies.
9. New York, New York
As a New Yorker, I'm going to make the totally unbiased statement that New York has literally everything you could ever ask for. Of course, that includes a giant variety of people to have a summer romance with. We've got finance bros, hipsters, chic stars and grungy rockers.
Hang out in Central Park's Sheep Meadow for five minutes and you'll spy all of them. That's a promise.
10. Chicago, Illinois
Chicago is only becoming more and more hip as the years go by. Like Boston, it's a city full of colleges, so you've got students soaking in the summer along with young professionals.
The city is full of culture you can explore on your way to find your summer boo.
11. Las Vegas, Nevada
I mean, does Vegas even need an explanation of why it's a great spot to find a hot summer fling? It's f*cking Vegas.
12 Seattle, Washington
For all you hipster lovers out there, Seattle is the place for you. You'll be sure to find an outdoorsy sweetheart to show you around the city and get you a cup of Starbucks.
Wherever you end up this summer, make it a point to meet some locals and gain perspective about your temporary home -- or at least gain some steamy stories to tell your friends when you get home.
Citations: Forbes, Washington Post