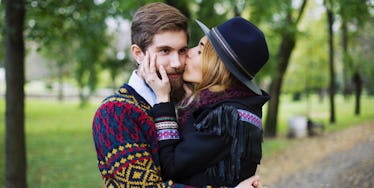 How I Taught Myself To Accept Love In A World Obsessed With 'Likes'
Jovana Rikalo
In October, my sisters began planning my bachelorette party. We'd be heading south to Anna Maria Island in January, in order to escape the depths of winter.
It was at this exact moment that panic set in. "An entire weekend dedicated to me?" I quickly began to pray for warm weather and told my friends (as often as possible), "I sure hope the weather is good. It is an El Niño year, after all."
I tried to give them a subtle warning that we might not return thawed and bronzed. The weekend might be simply about celebrating me.
Leading up to the trip, however, my anxiety grew. The night before, I cried for 40 minutes straight. No, I was not just tearing up: It was the kind of crying where tears were coming out of my eyes all at once. I tried to explain why I was crying to my fiance. I began citing all sorts of reasons that weren't real or relevant.
The weekend was unusually cold. The temperature was hovering about 15 degrees below what we had expected, with Jonas winds tearing across the island. At one point, we stood on a dock, and my sunglasses flew off my face.
The day before we arrived, it was 70 and sunny. The day we left, it was 67 and sunny. Our weekend was the Swiss cheese hole between weeks of warm weather.
Throughout the weekend, I vacillated between absolute joy and total apprehension. I was overwhelmed (in the best way) by the love my friends showed me, including the way they had all listened so intently to details about our relationship, every activity and meal my sisters had prepared and the generous gifts my friends had brought.
But, I was also worried. Were they having fun? Were they upset about the weather? Did I drink enough? Did I drink too much? Did I say thank you enough? Did I seem happy enough? Grateful enough?
I was so concerned about pleasing them that I was stealing my own joy. The confusing part is, I have been to countless bachelorette parties. During this time, I have never thought badly about the bride. I never once thought the weekends were about pleasing me.
In fact, I knew they were about what the bride wanted. She wanted to parade around our college town and buy dollar beers? Sure. She wanted to lay on the beach with magazines? Why not?
She wanted to have a quiet dinner with her best friends and mom? I'm there. Never, in any of these scenarios, did I think the trips were about me. I never questioned the bride's behavior. So, why did I think my friends would question mine?
Since I've returned from the trip, I've reflected a lot on why I was so worried about my friends' enjoyment, rather than simply basking in the love they showered upon me. I was sitting at work the Monday after the trip, drinking my second cup of coffee and reminiscing over the photo stream (again).
Then, it hit me: Very rarely do we believe we deserve good, no-strings-attached love. Even the most confident, secure person can be overwhelmed by abundant, no-strings-attached love because as people, we all know our flaws. No one truly believes he or she deserves the best love without giving anything in return because he or she is acutely aware of his or her own brokenness.
To accept love and express gratitude displays utmost vulnerability. Almost nothing is scarier than saying, "I am open to your love, and I will accept it without the fear of you hurting me. I will let you into this space of vulnerability. All I can offer in return is a thank you, which I hope is enough."
Love can feel foreign. We live in such a wired, tired and "like" heavy world. As a result, we often miss the chances we have to love one another on a daily basis. To take a weekend in order to shower someone with love is so far outside our daily grind of double taps, desk jobs and endless emails.
It feels foreign and overwhelming. It feels overly indulgent.
This weekend reminded me it's OK to let people love us, even when we offer nothing in return. Nothing is more rewarding than opening our hearts to being fully accepted and loved as we are. Nothing allows us to connect with one another more than letting people love us and giving them the same thing right back.