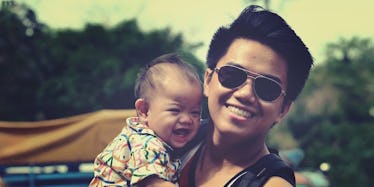 10 Father's Day Gifts Perfect For The Dad Who Already Has Everything
barrozodirk/Pixabay
With Father's Day sneaking up around the corner, it can be a challenge to find the right gift for a dad who already has everything.
On the one hand, when in doubt, something that he will use (whether he has one already or not), will be much-appreciated.
On the other hand, something unique that he's never seen before will be such a pleasant surprise.
If you're lucky, you may be able to find something useful for Dad, with an unusual twist. You can give him the best of both worlds with these 10 gifts to get a dad who has everything.
1. A Designer Leather Belt
Tommy Hilfiger Reversible Belt, $23.99, Amazon
For a fashionable dad (or one who needs some help), stylish belts are always a go-to. Unless he prefers his pants around his ankles, belts are always a much-needed accessory as well.
This Tommy Hilfiger leather belt is actually a 2-in-1. It can be reversed to reveal a black leather face on the other side.
2. A Microfiber Beach Towel
Dock & Bay Microfiber Beach Towel And Pouch, $19.99, Amazon
If your dad is a total beach bum or outdoorsman, he will love this microfiber towel.
Not only is it super compact and lightweight, but it practically repels sand and water, keeping Dad clean, dry, and stress-free.
3. A Stainless Steel Travel Tumbler Mug
Liquid Savvy 30 Ounce Stainless Steel Travel Tumbler Bundle, $16.97, Amazon
Practically anyone would be impressed by this mug that keeps beverages cold for 24 hours, and hot drinks sizzling for up to six hours.
The bundle comes with reusable lids, a stainless steel straw, and a removable heat-free handle.
4. Some Reusable Whiskey Stones
Drinking Rocks Reusable Granite Chilling Stones, $9.34, Amazon
Dad can keep his bourbon cold without any worries.
These granite stones keep liquor nice and chilled without diluting it, like ice tends to do. They're reusable and come in a little wooden box for safe storage.
5. The Ultimate Couch Workout
Stamina 15-0125 InStride Folding Cycle, $24.85, Amazon
Thanks to you, Dad can now break a sweat and watch the big game at the same time.
This folding cycle machine can be used for the arms or legs from any flat surface. Dad can adjust the resistance to his preferred level so he can get the most out of his workout.
6. This Versatile Massaging Headrest
Shiatsu Massage Pillow Massager, $28.99, Amazon
Pamper your dad this Father's Day with this soothing massager that he can take wherever he goes.
With adaptors to fit the seats in the car, the office, or anywhere at home, there's no place he won't be able to find some relaxation.
Another perk of getting this for Dad? You can borrow it whenever you need to.
7. This Desk Organizing Charging Station
EasyAcc Double-Deck Multi-Device Charging Organization Station, $28.99, Amazon
Help Dad keep his desk clean and his devices charged with this unique gift. It takes up so little space but has oh-so much purpose.
8. These Stuffed Burger Presses
Cuisinart 3-in-1 Stuffed Burger Presses, $11.47, Amazon
These nonstick stuffed burger presses will be put to excellent use by the barbecue master in your life. Using these fancy tools, Dad can make sliders, stuffed burgers, or regular burgers.
Bon apétit!
9. This Digital Tape Measure
eTape 16' Digital Tape Measure, $24.53, Amazon
Somewhere deep inside every dad is a handyman, just waiting for the perfect tools to get the job done. This may just be one of those tools.
10. An Affordable Fitness Tracker
Toprime Waterproof Bluetooth Wireless Fitness Tracker Wristband, $38.99, Amazon
Help Dad keep up with his workouts with this wireless fitness tracker wristband. It monitors heart rate, sleep patterns, and daily exercise.
This wristband is also recommended for swimming, as it's water resistant and controlled by touch screen.