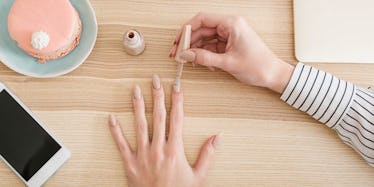 19 Gorgeous Fall-Inspired Nail Art Ideas That Are Necessary For Your PSL Pics
Next month is September, so you know what that means: It's #PSL season. I know it may not be the coolest to be super pumped about it, but I won't lie; I'm really freaking excited. Fall is basically the best time of year, and coincidentally, my birth season (where my Libras at?).
The pumpkin spice food and drink craze means you're definitely going to be snapping some pics of your first PSL sip. And let's be honest, there's really no better excuse to up your nail game than when you're snapping pics holding your seasonal beverage. Needless to say, you should plan your course of attack ASAP.
These 19 fall-inspired nail ideas are the perfect match for your PSL and oversized sweater.
1. Have you ever seen a more perfect change of the seasons manicure?
2. This sparkly mauve set inspired by autumnal leaves is simply stunning.
3. These gorgeous square tips are in the perfect fall shade.
4. This classic burgundy red color just screams "FALL."
5. A subtle sparkle look is necessary for the days when you're feeling like a total fall queen.
6. Stiletto-shaped nails were meant to play with monochromatic palettes.
7. An adorable set of fall doodles is sure to rack up the likes and compliments.
8. This autumn waterfall design will give your PSL life.
9. Chrome nail polish adds an unexpected touch of edge to your fall look.
10. This flawless fall take on the classic French manicure is serious #goals.
11. This manicure looks just like a super cozy fall sweater.
12. You can rock these fall neutrals any day of the week, with pretty much any outfit.
13. This forrest-colored manicure has me green with envy.
14. A marble set looks trendy and chic for autumn.
15. Go subtle glam with these geometric neutrals.
16. Dark contrast nails make a statement that's bound to impress.
17. When you combine ombré with fall, you get a match made in PSL heaven.
18. A bit of added sparkle goes a long way.
19. These spooky nails are to die for during Halloween season.