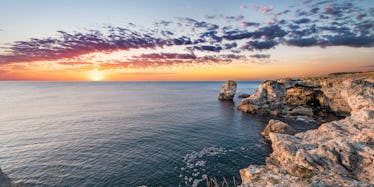 Why You Should Book Your Next Exotic Getaway To Malindi, Kenya
Shutterstock
The roar of the Indian Ocean's rapids is loud and thunderous.
But as I listen to the water crashing just meters away while lying in a claw-foot bathtub, part of me feels like I could easily drift off to sleep.
The other part of me wants to stay awake to soak up the pure paradise that surrounds.
"I love the noise in the same way that I revel in a good storm," says Benito Marchission, owner of one of the slices of heaven that are the lodges of Malindi.
There are many Italian businessmen in the Kenyan coastal town who have committed themselves to developing the area and building five-star hotels that boast of hospitality excellence.
As a result, Malindi, the nation's most beautiful and peaceful beach town, feels like a little Sicily.
It has something to suit most everyone's fancy.
Swirling 30-foot waves make surfers' dreams come true, while down the coast, tranquil, turquoise waters beckon frolicking toddlers and families.
Fascinated by African beaches along the Indian Ocean from an early age, Benito led a team of investors to Malindi in 1996, before co-founding a commercial motor boat company there.
Benito became so passionate about the town that he decided to settle and support local Kenyans as well.
He decided to build a lodge, aiming to employ workers from surrounding communities during construction, and to run the resort long-term.
It took a year to obtain approval from the Ministry of Lands to build in Malindi.
About 150 locals joined in the daunting work of constructing his resort.
Most of the materials, including gum poles up to 8 meters long, were ferried to Malindi in wooden canoes from nearby market centers.
Guests today use the same canoes to sail a few yards into the Indian Ocean and back, simply for fun.
"We used very few drawings, and the design constantly evolved," says Benito's brother, Andrea, who served as co-architect, engineer and project manager.
"Despite the challenges, Benito and I thrived on the organic design and construction."
Today, elevated wooden walkways link all the 10 suites that boast spacious beds and washbasins in Benito's resort.
The room's have all been given local names like Wafula's, which means "for one born during the rainy season."
Most of the resorts in Malindi ooze the same serenity as Benito's. Some are even better.
As guests weave throughout the lush, acacia-strewn grounds, they can encounter African grey parrots, African fish eagles or crested cranes.
More than 50 bird species have been identified, and white-breasted cormorant frequently surf the waves in front of the lodges near the beach.
The Italian lodges of Malindi have a dramatic, yet peaceful setting, inviting guests to gaze upon the sea while dining on a five-course meal.
Dishes such as seared tilapia topped with lemongrass and ginger and ravioli stuffed with potato, roasted red onion and thyme entertain palates as much as the setting does the spirit.
All of the exclusive resorts line the African stretch of sand are ready to spoil anyone willing to spend the money.
Perhaps you're looking for your own personal beach butler to deliver margaritas, or you want to splurge and rent out a beach cabana.
Your every wish can be easily granted.
After soaking in the sun, you could indulge in a tanning consultation or unwind with a "mahaba" massage, noted for its spiritual and healing aspects.
"You really feel as if you are deep in the paradise," says Emy Gasgoine, a Brit living in Kenya who recently took her parents to one of the Italian resorts in Malindi.
"Everywhere around you are birds and butterflies, and beyond the white waters are the beautifully lush beaches of the Indian Ocean."
Besides sipping sundowners in the lodges rock pools, guests might be pampered with spa or facials, enjoy a guided walk around the coastal town or share a beer with friendly locals while getting showered with traditional folk tales.
The more adventurous visitors can brave the waves go for a lengthy boat ride, or they can swim dip in the ocean under the watch of coastal guards.
Malindi is home to a true underwater paradise that attracts scuba divers from all around.
The deep waters satisfy all levels of divers, from beginners to experts, and they boast a large number of fish native to East Africa.
Roughly 40 percent of them can be found only in Malindi and neighboring waters in Mombasa.
Divers can swim with the likes of longnose butterflyfish, sailfish, mangrove snapper, barracuda and even the endangered green sea turtle.
The highlight of my own Malindi weekend, though, was being given a turn at the tiller — in the manner of screen goddess, Katharine Hepburn — on one of the original boats used in the 1951 Hollywood classic film, "The African Queen."
In 2010, the old, diesel-powered boat was discovered languishing in a Nairobi garden trailer.
Benito tracked it down, took a punt on the investment and had it restored.
The other one had reportedly been transported to Uganda.
Now, the boat's skipper — dressed as Oscar-winning actor, Humphrey Bogart — runs 45-minute tours of the ocean.
Though my trip revealed no sign of the 2,000 cigarettes or tinned grub that Bogart boasts about onscreen, I was thrilled with the obligatory two cases of Gordon's Gin kept in stock.
It is quite magical, steaming into the sunset.
You find your thoughts wandering back a century when you are on board.
Most of the visitors to the lodges are foreigners, although locals are increasingly being drawn to the lush spots for their intimate, secluded nature and stylish appeal.
The good thing is they are never crowded, so you don't get the feeling you are a tourist with a to-do list.
And of course, there's the sound of the water.
Some guests have even remarked that a month after leaving, they can still hear the turbulent rapids.
It proves that although a stay in Malindi may fly by too quickly, it's an experience that lingers for a long time.
If luxury hotels and constant pampering are your idea of the perfect beach getaway, then Malindi is the gem you've been seeking.
Fly there and enjoy.