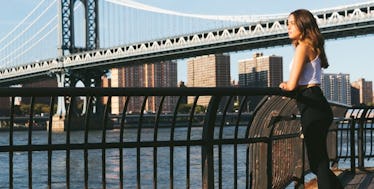 Everything A 20-Something Needs To Know Before Moving To New York City
There isn't anything quite like living underneath the shimmering skyline of New York City, but if you're a newbie, it can be a tad bit overwhelming.
I've put together a guide so you know what to expect before you make the move.
1. If you're looking for your own place, just know there will probably be a broker's fee.
OK, so in most parts of the US, apartment rentals are simple transactions between the owner and the renter. In New York, however, it gets a little messy.
Apartment rentals in the Big Apple typically involve two real estate agents – one who represents the owner and one who represents the renter.
It is standard apartment rental etiquette, and basically real estate law, for the renter to pay the fees of both agents. Usually this fee is a one-time payment that amounts to 15 percent of the annual rent, which is due in-full prior to signing the lease.
So, that means if you found a lovely brownstone on 11th Street for $4,000 per month, then the broker's fee would equate to a payment of $7,200.
The best way to avoid paying an astronomical broker's fee is to look for a "no fee" apartment. It would also be wise to contact the agent BEFOREHAND.
2. But there's good news, kind of – plenty of people in NYC need roommates.
Having a roommate is actually an amazing thing to have in New York, especially if you've never been to the city before. A roommate will give you constant comfort, if you choose wisely.
I was extremely fortunate when I first moved to NYC. My roommate (a through-and-through New Yorker) mostly kept to herself, but whenever I needed her, she would be there – whether that meant drinking a bottle of wine with me while I complained or participating in a douche-bag escape at 2 am in Midtown.
Aside from making a lifelong friend, roommates are good to have because #bills. Some rooms in Manhattan rent for a low as $1,000 per month sans broker's fee. So, join a Facebook group or reach out to a few college students in the area you're interested in – who knows you might get as lucky as I did.
3. Not everyone in New York is as rude as you think.
Whether you're originally from the South or the North, I'm sure you've heard a little buzz about how rude and loud New Yorkers are, and honestly, while they are quite loud, each and every real New Yorker I've met has been kind to me.
Just the other day I witnessed a stranger helping a blind man walk down the subway steps, so just keep in mind, there is good in everyone.
4. With that being said, you still need to watch your back.
Whether you're clubbing or just going out with your friends, be sure to pay attention to your surroundings, and keep your head high. Shady types usually hang out in the touristy areas, like Times Square and Herald Square.
5. Seamless will become your absolute best friend.
For those of you who do not know, Seamless is a glorious food-delivery service that will deliver just about anything you want at any time to your doorstep, including cookies, pizza, lasagna, dumplings, etc. The list could go on forever.
6. The subway can and will be your worst enemy, but not all the time.
Some days the subway will feel like Satan's lair, filled with fire-breathing minions. And on other days, the doors will open for you right when you get to the platform, and life will be beautiful.
There is also an abundant amount of talent on the subway – from violinists to guitar players to eccentric artists to full-on dance troupes.
7. You shouldn't have to suffer just because your bank account can't handle the city.
Living in Manhattan is extremely expensive. Grocery trips could cost up to $80 just for a few items, due to an overrated sales tax, and bar tabs can soar past $100 within the blink of an eye.
But it's important to remember you'll never be able to experience a city like this one, ever again. Unless, you stay here forever, that is.
Your 20s are for experiencing life and figuring out who you are. As long as you can pay the essentials, like rent, utilities and food, then you're good. Plus, there are tons of free things to do in the city each and every night – just Google it.
8. It's good to leave the city every now and then.
New York is by far one of the greatest cities in the world, but keep in mind it will become exhausting. If you want to remain sane, then try escaping to Long Island or Upstate New York every now and again.
The fresh air will help you recuperate to kick ass once you get back into that concrete jungle.