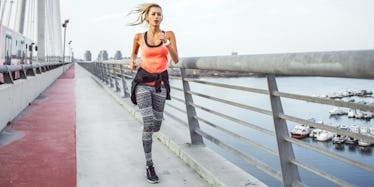 If I Don't Get To Say Goodbye: How I Plan To Honor My Grandpa's Legacy
It was Christmas 2014 when something started to feel wrong.
My 85-year-old maternal grandfather was always tired. He went from an energetic guy to an exhausted day-sleeper with tingles in his upper back and pain on his side.
Working for a cancer charity, my first thought was that a cancer diagnosis would soon be on its way. Surrounding myself with other people's stories of the disease at work has made me oddly obsessed with the potential of a diagnosis.
When I have a slight headache, I automatically think I'm dying of a brain tumor.
Naturally, I thought the association of my grandfather's drastic weight loss and lack of appetite with cancer was just another one of my typical "taking work home with me" incidents.
That is, until I got the call.
It was the day before New Year's Eve when I was heading home from a short trip to Northern Ontario with my partner's family. I called my mother to get the results of my grandfather's CT scan.
"Well, it's not good news," my mom started. "They've diagnosed him with stage four lung cancer that has spread to his liver. The CT scan only saw the top of his liver, so we do not know where else it is."
I've heard this story many times at work, before: An 85-year-old man gets diagnosed with stage four cancer and just like that, he's gone.
The doctors caught the diagnosis too late or the family left the check-up to the last minute, and before the biopsy, the man dies. Unexpected.
Except, this isn't work.
Still waiting for my grandfather to undergo a lung biopsy, which poses the risk of his lung collapsing, as I write this, I have one selfish fear: What if I don't get the chance to say goodbye?
There is a chance the prognosis could be good and I want to remain positive and strong for my family and for myself during this time, so I don't intend on being a Debbie Downer throughout this cancer journey.
Still, I worry.
As a child, I was always kept in the dark about how sick my loved ones were because my family didn't want to scare me. They had my best interest at heart.
However, after losing a great-aunt to a 10-year-plus battle and my paternal grandfather to cancer, without understanding the importance of saying goodbye and thanking them for the lessons they taught me, I don't want to mess up this time around.
I want my maternal grandfather to know how much I adore the way his hair only covers the sides of his head and that I love the way he insists on only wearing dress pants, even at home.
I want him to understand that the way he talked about working in the mines in Belgium to make money to come to Canada, where he could continue to work and ultimately bring his family over from Italy, taught me the importance of a strong work ethic and dedication.
I don't want my grandfather to suffer, but I want him to stick around so I can tell him that when people ask how he is and he responds, "Fine, fine, fine," even though he is in excruciating pain, I am reminded to always look at the glass as half-full.
I hope I have enough time to tell him how I could be angry at the world, but hearing his voice over the phone is enough to calm me down and make me forget what I was even mad about in the first place.
I wish I could dance with him in the middle of his kitchen as he sings a Parisian song in broken French, one more time.
I want to always remember hiding in the attic as a kid while playing hide and go seek with him, trying not to giggle too loudly as he would walk up the stairs counting, half in English, half in Italian.
I hope we can spend every remaining moment playing scratch tickets with lucky pennies, reminiscing about the wine my grandfather used to make and eating too much bad Chinese food.
That's just it, though. Cancer doesn't give us a timeline.
The prognosis could be three months or three years, and the disease can still choose to yank my grandfather's life away in three minutes or give him the gift of another decade. If I had it my way, my grandfather would live forever.
He would see me buy my first house and maybe even meet my children. He would plant butternut squash each summer and plant roses in the garden underneath his veranda.
Since life doesn't work that way, though, with or without cancer, I must promise to make his last moments, weeks, months or years, special. If anyone deserves to go in peace and in good memory, it's him.
I've never been so proud to be related to anyone in my entire life. His life has been a gift to many others and me.
As his granddaughter, I promise to make sure he knows this.