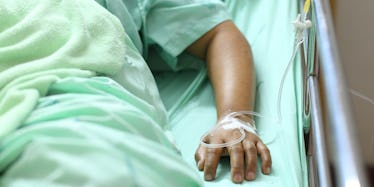 It's Probably Time To Talk To Your Loved Ones About Organ Donation
Shutterstock
Some may not know this, but April is National Donate A Life Month. This is not something to be overlooked.
This is a whole month dedicated to celebrating organ, eye and tissue donors. There are so many people on this planet who need these things. To me, it's a no-brainer. I think everybody should register to be an organ, eye and tissue donor. However, I think it's important to be informed before making that decision.
When you go to the driver's license bureau, the question is just sprung on you as you fill out the paperwork: "Would you like to be an organ donor?"
Many people just mumble their answers without really thinking about what they're doing. It's always hard for me to keep my mouth shut when the person next to me doesn't agree. But I calm down when I realize the person may not be informed enough.
Deciding to donate your organs if something happens to you really isn't something you should just mumble in the moment. It's something you should do extensive research on because it's your body and family that you will be affecting.
While it is an uncomfortable topic, if it's not on your driver's license, your family will make that decision for you. It is your responsibility to make sure they know, 100 percent, what you want to do. In this way, they can honor your wishes.
Another thing you could do is register yourself at DonateLife.net. It's a simple process, and you'll automatically be registered if you didn't already do so at the license bureau.
Of course, you get to decide what you want to do with your body. But personally, I know how many lives it has saved. If I'm gone, I'd much rather have somebody else get the opportunity to live his or her life to the fullest. I would like someone else to have extra time with his or her loved ones. I won't need my organs when I'm gone, so I might as well give them to somebody who does.
According to Donate Life America, there are about 22 people who die each day while waiting for organ transplants. On the flip side of that, about 30,000 patients have gotten the opportunity to receive transplants. I believe that this number can rise. If more people are educated about this process, more people will be willing to donate.
Donating your organs truly is the biggest gift there is. I can't stress enough how important this month is to spread organ donation awareness.
I realize nobody wants to think about something happening to his or her loved ones, but life happens. At least we are given opportunity to help others. More importantly, it's always good to open up the discussion.
There are a lot of misconceptions about organ donation. That's why I feel it's important to be educated. People don't take the time to perform any research before they say "no." Honestly, you could be doing a wonderful thing and saving multiple lives in the process.
So, the next time your license expires and you know you're about to make a trip to the license bureau, don't just shake your head "yes" or "no" without thinking about your answer. Do some research prior to your visit.
Read success stories online about both living and deceased donors. Read statistics about organ donation. Read about what the process is actually like.
Get brochures. Go to booths. Get informed about your decision.