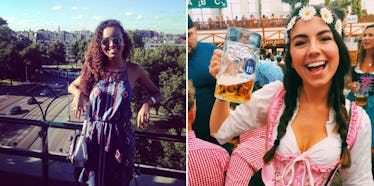 6 Breathtaking Destinations Across The Globe Every Beer Lover Should Explore
Instagram
There's no better time than the present to combine your passions for travel and beer.
We already put together the ultimate bucket list for wine lovers, but beer lovers definitely deserve the same amount of respect and representation, too.
This summer, take your deep love of the brew global by jetting off to one of the top places in the world for beer connoisseurs to explore. Round up your girlfriends, and get planning.
Life is way too short to sit back and dream about wandering the world. You should be out there making those memories and experiencing all those new and incredible places.
Here are six breathtaking destinations to get your traveling started.
What's better than jetting off to Munich, Germany to ring in the fall season while sipping brews at Oktoberfest?
Break out your dirndl and get ready to cheers your glass (aka, prost!) to the largest Volksfest in the entire world. There are 14 beer tents to hit up, each spotlighting various beers that will be poured into glasses the size of your actual head.
Of course, don't forget to stack your plate with bratwurst, pretzels, and chocolate-covered fruit kebabs. While you're at it, be sure to embark on a bike tour of this seriously breathtaking city.
If you're a major fan of the dark stuff, the Guinness Storehouse in Dublin is calling your name. It is truly an unparalleled experience to casually sip your favorite beer in the heart and soul of where it's actually brewed.
Once you're finished touring the Storehouse, rise on up to the seventh floor, where you can savor a smooth pint of Guinness at the Gravity Bar while enjoying a spectacular, 360-degree view of Dublin.
Any chick who's all about that white pale lager life should wander to Amsterdam to get her beer fix. The former Heineken brewery (which was transformed into a museum) deserves a spot at the very top of your itinerary.
New York City's beautiful skyscrapers hold endless possibilities. The wide array of restaurants, bars, and beer gardens will satisfy every foodie and beer lover's palate alike.
McSorley's is the Big Apple's oldest "Irish" tavern, located in the East Village. The sawdust floors, friendly vibes over communal tables, and newspaper-covered walls give the venue so much character.
Now, just one more important decision to make: Light or dark ale?
Brussels is, without a doubt, an enchanting city.
This is only the very first stop on your beer tour throughout Belgium, as the country is an amazing destination for every beer fanatic to add to her bucket list.
The beautiful tradition behind Belgian beer is spotlighted in the Belgian Brewers Museum, where guests will be able to view brewing and fermentation tubs and materials that were used in breweries dating back as far as the 18th century.
Enjoy a glass of beer in the museum's café after the tour, and then move on to your next stop.
You might as well plan a beer road trip throughout California while you're at it, but Stone Brewing is definitely a great first stop.
The grounds include a one-acre organic beer garden, craft and specialty beers readily available on tap, divine cuisine, and a charming, open-air patio where guests can sip and savor.