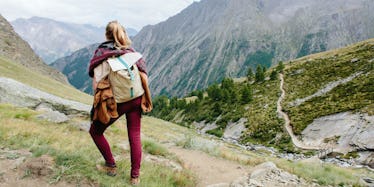 7 Questions To Ask Yourself When Deciding Between A Gap Year Or A 9-To-5
Denni Van Huis
Traveling the world is an opportunity that often presents itself when you are trying to figure out what to do in a gap year. While you may feel pressured to take the traditional career route shortly after graduation, doing so could cause you to miss out on valuable life experiences.
As you weigh your options, ask yourself these questions that will ensure you make the right decision for your future.
Can You Afford to Travel?
For most travelers, sticking to a budget is essential, and you should be sure that you are financially ready to travel. However, it is also important to know that there are many ways to keep costs down while traveling the world.
For example, staying with a host family or in a hostel can allow you to cut down on your lodging costs. You can also find work around the world such as teaching others to speak your native language that can allow you to travel comfortably.
Will a Gap Year Affect Your Future Career?
It takes courage to hop on a plane while your friends are accepting job offers, yet traveling the world can place you at an advantage in the job market when you do it right.
For example, working with teaching overseas agencies will give you some interesting talking points during interviews after your return home. Traveling the world will also give you confidence and leadership skills that are essential for every career field.
How Much Socialization Do You Need?
Leaving home is a big step during a gap year, yet traveling offers you an amazing opportunity to bolster your independence. Begin by asking yourself if you want to travel alone or with a buddy.
If you decide to make a solo trip, think of ways to make friends along the way. Striking up a conversation with a friendly face on a bus, or meeting new people through a work program are two ways to stave off loneliness during your travels.
Are You Physically and Mentally Ready?
Although traveling is often considered a leisurely pursuit, it is actually hard work. During your travels, you may be exposed to new foods, challenging terrain and different living conditions that will tax you physically and mentally.
Schedule a pre-trip checkup, and talk to your doctor about any necessary vaccinations or medications that you may need to take as a precaution. Then, gear up mentally by researching the areas you will stay in so you know what to expect upon your arrival.
How Will You Stay Safe?
International travel is relatively safe, yet you should know how to protect yourself in a foreign country.
Before you plan your itinerary, check for travel warnings in the areas that you intend to visit. It is also important to brush up on local customs. For example, knowing how dress appropriately, speak to persons of authority and follow the local laws will help you blend in with the local people.
What Types of Things Do You Want to Experience?
Just traveling to a different country is guaranteed to change your life, yet you should still think about ways to enrich your experience. Do you want to stay in one place for a while so that you can truly experience the culture? Or, perhaps you want to make a lasting mark by choosing to work around the world while helping others.
Considering the impact you want to make in the places you visit can help you make the decision regarding whether or not traveling is better than working a typical 9-to-5 job.
Are You Interested in an Organized Program?
As you plan your adventure, you will also discover that there are organized programs available that can enhance your travels around the world. If you are sticking to a budget, however, tour groups and travel guides can get expensive. Fortunately, there are more budget-friendly options such as organizations that recruit volunteers.
Teaching overseas is another option that can allow you to build work experience that will bolster your resume while also earning an income to help fund your trip.
Making decisions regarding what to do in a gap year is exciting, and you can set yourself on the right path for success by carefully weighing your options. While taking a traditional job may offer some security, it can also limit your chances for enjoying valuable life experiences compared to traveling the world. By taking into account your interests and abilities along with potential organizations that can help, you can enjoy the best of both options by choosing to work around the world for the next year.