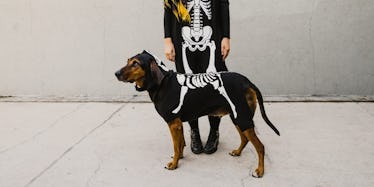 12 Insanely Cute Halloween Costume Ideas For Your Furry Friend
Every year, there's a lot of talk about Halloween, what to wear, and finding the perfect costume. No judgement here; I know each year I spend way too much time debating what to be, and then deciding it's not worth the hassle and I end up going costume-less. Picking your Halloween costume is rough stuff. But you know what's not ruff? Thinking of adorable dog Halloween costume ideas.
They say your pet is your best friend, and I know many of us can vouch for that. Why not include your furry friend in on your festive plans? There are so many affordable costumes to choose from, that finding your companion a costume is way more fun than finding one for yourself. TBH, they may not love you for it, especially when they're lugging around their costume for a few hours, but you know they'll forgive you. And don't even get me started on how incredibly cute they'll look. Forget your costume, because your dog will be the one who's stealing the show.
From a mini Chewbacca to a hot dog, the variety of costumes available for your furry friend is endless. What are you waiting for? To get you started, here are 12 adorable costumes for your fur baby to wear this Halloween.
1. A Sweet Ice Cream Sundae
How cute does this happy doggo look? If your fur baby is known for being particularly sweet, this is the costumer for him or her. Cue the "awe's" now.
2. A Superhero Pup
Is your pup your lifesaver? Your know your dog is here to save the day in this costume. I can't get over how cute the little costume arms look when they walk in these.
3. A Super Cute Puppy In A Picnic Basket
Puppy in a basket, anyone? This one is perfect for the dog who's going to want you to carry him or her around all night long. How adorable is that little watermelon vest?
4. A Ballerina Dog
The ballerina dog doesn't disappoint. This pooch knows the tricks and is well versed in being a good boy. And honestly, this costume is probably the least restrictive and least likely to annoy your dog all day long.
5. An Extremely Spooky Monster Dog
This costume is perfect for your tiny but ferocious pet. Cats and dogs will look monstrously adorable in the rainbow jacket. Hear them roar.
6. A Hot Dog Pup
If you have a little dog, you'll obsess over this cute little hot dog costume. He'll be the star of the show at any party. Just look how precious this costume is.
7. A Festively Glam Puppy
Glitter Pumpkin Dog Bandana, $3.99, Party City
This one's for the pup who likes a little touch of glam. If your pet really hates costumes, but you want to dress him or her up, you can both settle for this adorably festive bandana. Now, let's get this party started.
8. A Furry Lion Friend
Lion Pet Costume Sets, $9.99, Target
Your furry friend is here, fierce, and proud in this costume. Complete with front paw accessories, this outfit is only for the lion-hearted companions. At $9.99, it's a total steal.
9. A Sparkly Mermaid Doggo
Mermaid Dog Halloween Costume Sets, $9.99, Target
What could be a more perfect costume for your princess of a pet? The mermaid costume, complete with a soft tiara, is perfect for your diva dog. Don't even get me started on the seashell bra.
10. A Chewbacca Pup
Rubie's Chewbacca Pet Costume Sets, $14.99, Target
Are you and your dog big Star Wars fans? You'll get a kick out of this one. Maybe your furry friend will even adapt a Chewbacca-like roar. Maybe.
11. A Bunch Of Grapes
Grapes Pet Costume Sets -- Boots & Barkley™, $12.99, Target
This bunch of grapes is perfect for the family dog. Comfy and casual, your dog will feel right at home. Plus, you'll want to laugh out loud looking at your dog with the grape stem on his or her head.
12. Halloween Candy
Tootsie Roll Pet Costume, $19.99, Target
Your pup may not be able to eat a Tootsie Roll, but he sure can be one. This costume is on the pricier side, but it's worth it. Just look at that little face.