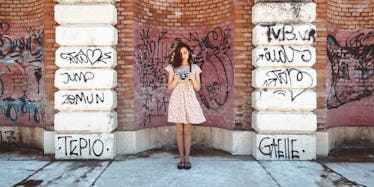 Still In College? Travel The Elite Way With Xtreme Trips
Stocksy
We are all about the fabulous life here at Elite Daily, so it should come to no surprise that we love vacations. Xtreme Trips is the most exclusive Spring Break company in the nation, with rented out hotels, clubs, you name it; it will be the most exclusive experience you'll ever have in college. The nightclubs are world renowned and rented out solely for the use of their company's travelers. These clubs feature some of the worlds most famous DJs. Appearances have already been made by Rehab, Chuckie, AN21, Max Vangelli, Zedd, Afrojack, Michael Woods, Sunnery James and Ryan Marciano, and Dillon Francis.
Although parts of Mexico might be perceived as dangerous, Xtremem Trips has a proven track record of selecting the safest destinations to party your ass off/ Their top Spring Break destination is Puerto Vallarta at the Vamar Vallarta Hotel, featuring sick beach party's everyday. PV is on the West Coast of Mexico, far from the dangers of Cancun and the Northern Border over 1,000 miles away. .
Xtreme Trips is a one-stop shop where you can book every aspect of your trip within 5 minutes! Choose the best options for your package, from the best roundtrip commercial flights, amazing beachfront hotels, and huge daily pool parties.
Having trouble selling your parents? Safety is this company's number one priority. They provide adult staff supervision without becoming overbearing; they become part of the party. This aspect has allowed them to become one of the nations largest student travel companies, traveling over 12,000 students per Spring Break season.
They have traveled the BEST, LARGEST, and HOTTEST schools in the country such as Penn State, Miami, Syracuse, Indiana, Wisconsin, WVU, Arizona, and Maryland. The list goes on and on but you get the picture.
This company has just announced their Fall Break Vegas this past week, which includes a weekend at the Palms Resort in October. Last year they had huge day parties at Tao Beach and Wet Republic followed up with the nicest clubs at night, Tao, Marquee, and Lavo.
Xtreme Trips is currently hiring reps for ALL schools across the country for Spring Break 2014 and for Fall Break Vegas. The applications are live here and you can apply to become reps today to earn a free trip! Getting paid to party? Sounds very Gen-Y to me.
Check out their Vegas 2013 video: