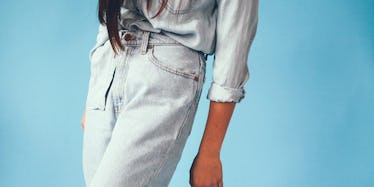 #DenimDay Is Wednesday, Here's How You Can Support Sexual Assault Survivors
It's time to break out your jeans, because this Wednesday is all about wearing denim for an extremely important cause.
April is Sexual Assault Awareness Month, and people across the globe are pulling out their boyfriend, bootcut, flared, low-rise, distressed and skinny jeans to make a powerful statement on Wednesday, a date marked Denim Day:
Wear jeans with a purpose, support survivors and educate yourself and others about sexual assault.
Peace Over Violence leads this global campaign to boost awareness about sexual assault, and to aid survivors.
Ever since the agency was founded by a group of feminist activists in 1971, its mission has focused on establishing healthy families, communities and relationships… all free of any type of domestic and sexual violence.
The Denim Day campaign was first prompted by a ruling under the Italian Supreme Court, in which the justices overturned a rape conviction involving an 18-year-old girl who was wearing a tight pair of jeans at the time she was assaulted.
The justices argued that the girl's jeans must have been too difficult for just one person alone to take off, thus suggesting the act had to have been consensual.
In a disturbing statement, the Italian Supreme Court said,
It is a fact of common experience that it is nearly impossible to slip off tight jeans even partly without the active collaboration of the person who is wearing them.
Women in the Italian Parliament took a stance the next day by wearing jeans to work.
The Denim Day campaign now encourages companies, students, officials and people in communities everywhere to get involved this Wednesday, April 26, to inform others about sexual assault and rape.
Here's how you can get involved:
1. First and foremost, don't forget to register. As of this very moment, over 10 million people are participating in 2017's Denim Day.
2. Thanks to the campaign's website, there's a map of events taking place on Wednesday, where you can search what's happening in and around your town or city. Round up the pack and participate.
3. Support Dollars for Denim with a donation. This program allows employees to wear jeans to the office, if in return they donate $1 each day, $3 each week or $36 dollars each quarter.
4. Wear denim on Wednesday, and get involved in the online movement. People are encouraged to take pictures showcasing their denim on April 26, and post them to their social media outlets.
As a matter of fact, people are already uniting to support the movement with hashtags #DenimDay and #NoExcuse.
Citations: Denim Day: Why All Women Should Be Wearing Denim This April 26th (Women.com), One on one, one by one: Peace Over Violence (Peace Over Violence), About (Denim Day), Dollars for Denim (Girard Securities, Inc.)