Austin is one of the last cool places in America where you can get a dope room without forking over an arm and a leg.
Whether you're heading out to Levitation this weekend or catching another music festival here, the last thing you'll have to worry about is finding a cool place to rest your head at night.
Austin residents have got your back with the weirdest, cheapest Airbnb accommodations for music lovers of all ages and styles.
Downtown Argyle Suite
The Argyle Suite/Loft on 4th Street
Austin, TX, United States
Stay at the Argyle Suite in Austin, Texas, and enjoy the best that downtown has to offer. Walk to everything, and enjoy swanky accommodations when you return to your centrally located complex, com...
This two-bedroom space looks like your average gorgeous loft apartment. But because it's Austin, you've also got an antelope head hanging above the fireplace. And for a mere $179 a night, it's a steal.
Bouldin Creek '50s Atomic Ranch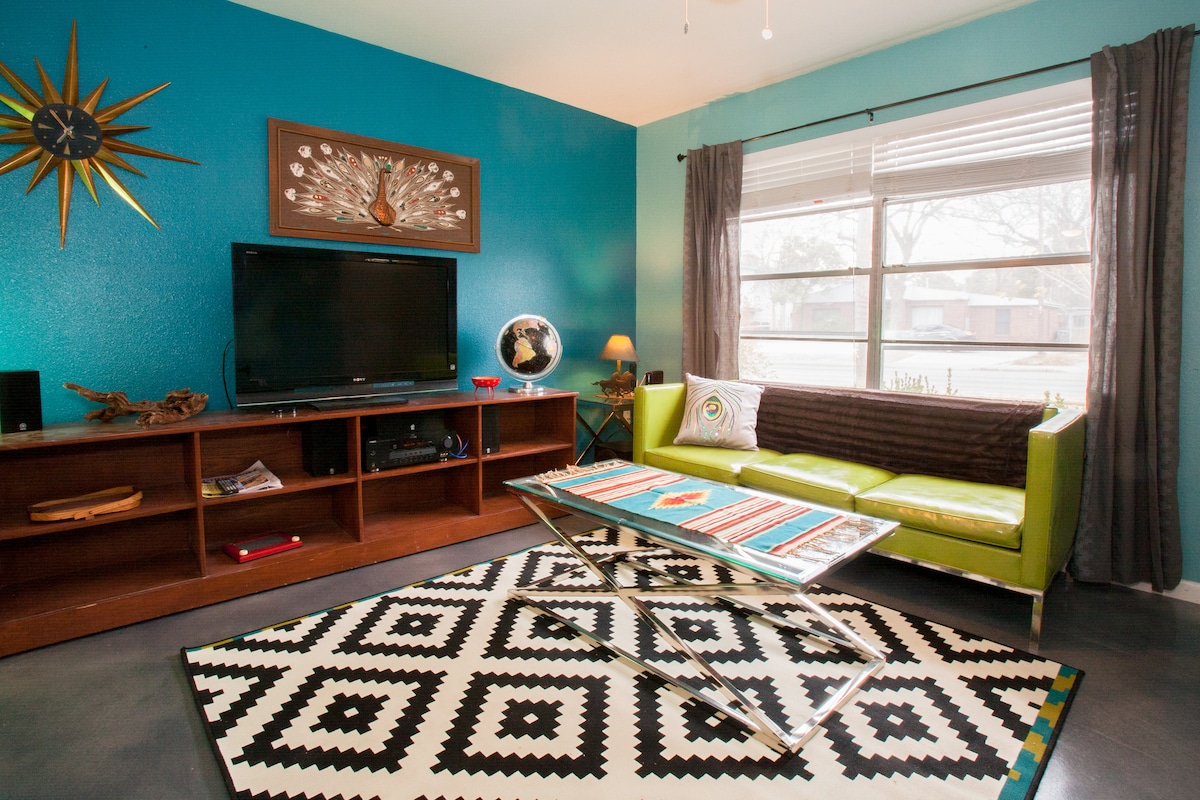 Atomic Ranch in Nucleus of S Austin
Austin, TX, United States
Come stay in a remodeled mid-century Atomic Ranch house. The house is in the nucleus of all the food and entertainment in South Austin and 2 miles to downtown.
There are so many great things happening with this place. Between the dinosaur decor, retro, Thunderbird-inspired kitchen and a bar made out of pennies, it's a kitsch lover's dream. Did I mention it's a ranch house that accommodates eight people for only $125 a night? [Insert jaw drop here.]
Bouldin Creek Groovy Cottage
RETRO GROOVY AND Hip Cottage/LOFT
Austin, TX, United States
Easy to get around all the historic music locations by walking or on the bus line! Downtown area, UT Campus, and Capital building very close attractions as well! You are literally super close to ev...
There are rumors this place is a biohazard because it oozes so much charm. Originally built as a carriage house in 1924, many of those roaring '20s details remain and somehow mesh perfectly with 1980s improvements. For $135 a night, it's affordable to time travel.
East Side Tiny House
Tiny House: Heart of the East Side
Austin, TX, United States
Our beautiful, minimalist Tiny House is a comfortable home base for tourists and business travelers. We look forward to hosting you in the heart of East Austin, just 1.5 miles from the convention c...
Man, oh man, do I love a tiny house. This one, in particular, is sleek on the inside and rustic on the outside, with its own tiny porch. While listed as a tiny house, the space still fits three people comfortably. And for $110 a night, how could you say no?
Downtown Historic Manor
Historic Manor in Downtown Austin
Austin, TX, United States
Stay in one of Austins most beautiful Historic properties. A 3,500 square foot 1909 construction completely restored gem.
OK, so this place isn't weird so much as it is plain f*cking gorgeous. Built in 1909, the manor has preserved many of those turn-of-the-century details while injecting modern luxury. At $1,000 a night, it's not the cheapest place to stay by yourself, but if you invite 12 other friends, it comes out to less than $100 per person.
Need I remind you, it's a freaking mansion.
East Side Casita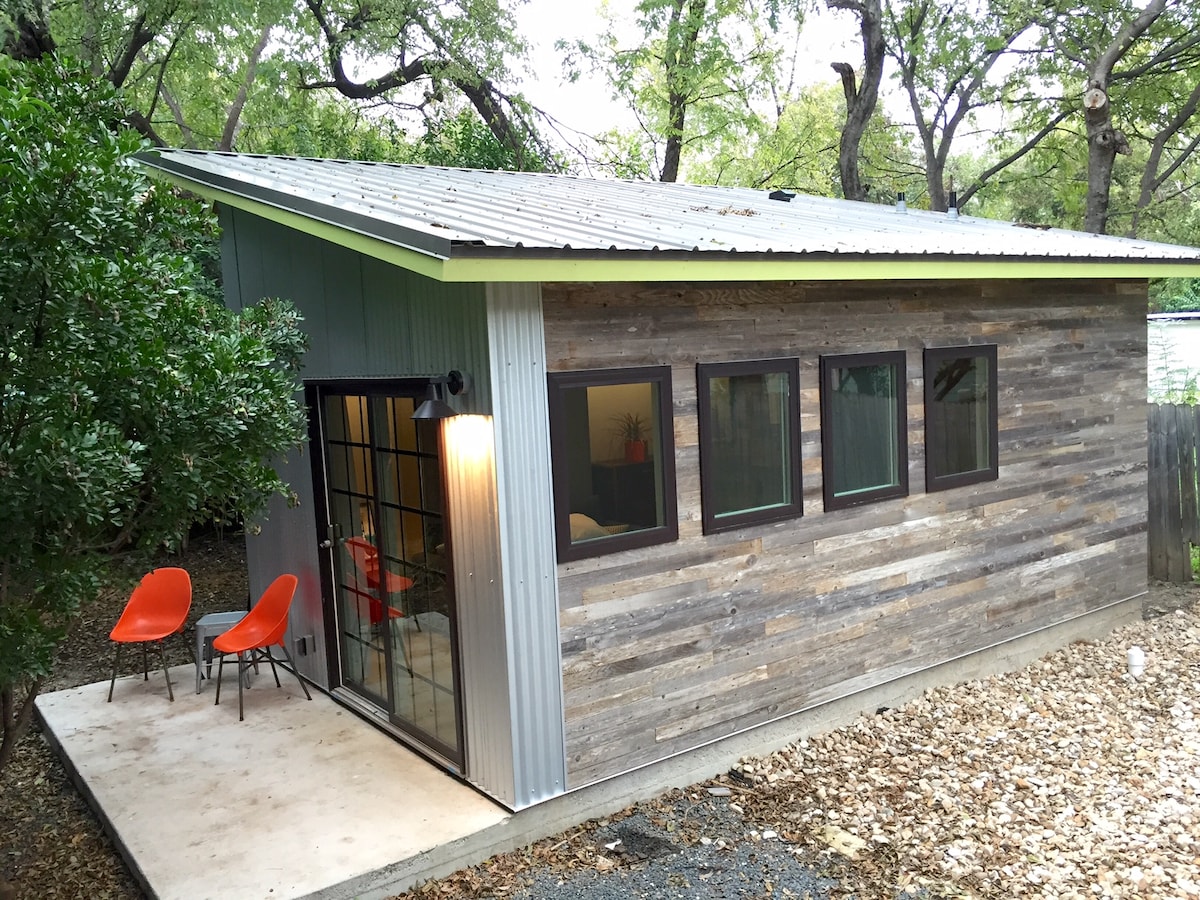 Charming East Austin Casita
Austin, TX, United States
The standalone casita is a charming studio that sits in the heart of the East side. The murphy bed setup allows for a comfortable sofa and lounging experience by day and a cozy sleeping experience ...
While small in scale, this place packs a big punch in style. With industrial aluminum paneling and modern fixtures balancing out the weirdness of its backyard location, I'd like to pick this place up and take it everywhere with me. For $85 a night, it really can't be beat.
Central Studio Loft
Cozy, bright lofted studio
Austin, TX, United States
Bright and airy with awesome deck. Convenient central location. Walking distance to tons of eateries, drink spots, coffee shops and groceries. 2 blocks from the light rail station which runs downto...
Austin is seriously killing it with these airy loft spaces. This centrally-located one, in particular, reminds me of a human-sized birdhouse with a private deck that is simply to die. You can snatch this puppy up for just $100 a night.
Travis Heights Artistic Treehouse Cabin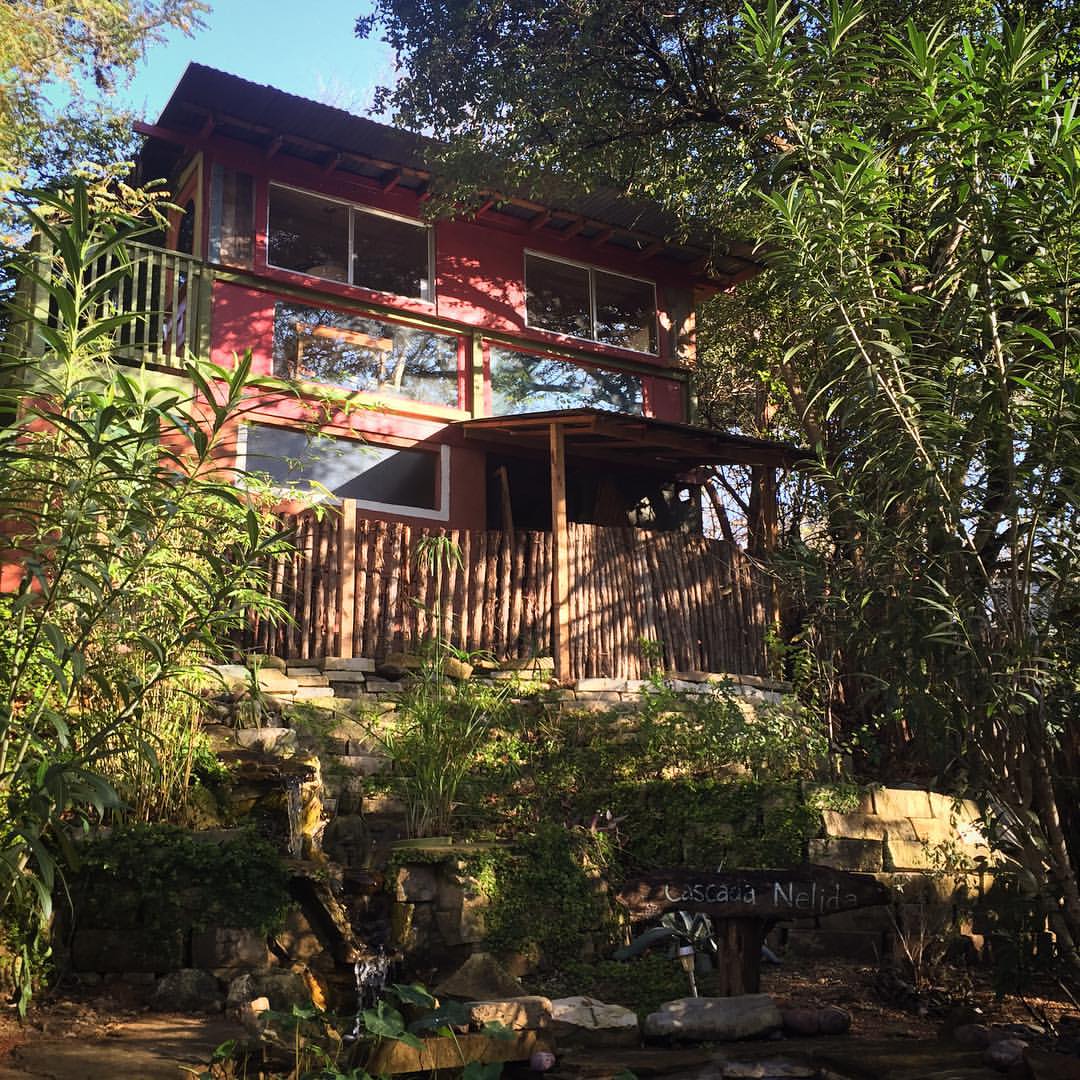 Cool Artistic Treehouse Cabin
Austin, TX, United States
Have you ever wanted to spend the night in a treehouse overlooking a waterfall and pond, but still want the amenities to be comfortable? Our "Casita Roja" (or little red cabin) is your "Glamping" d...
It just so happens I'll be staying at this little gem while attending Levitation this weekend and I cannot wait. It's basically a cabin in a tree, combining everything you ever dreamed of as a kid for the low, low price of $139 a night. I'll be splitting it with three friends, too, so I'm pretty much staying here for free.
Book your trip soon because these places fill up fast.
Stay tuned for more coverage from this year's Levitation music festival in Austin, and subscribe to Elite Daily's official newsletter, The Edge, for more stories you don't want to miss.