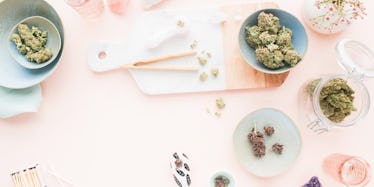 Weed-Infused Products That Give You The Benefits Of Marijuana Without Smoking
The growing acceptance and legalization of marijuana and its medicinal usage has resulted in many new opportunities for entrepreneurs.
From pleasure to skin care, these green cultivators have created truly unique weed-infused products you probably haven't even heard of yet.
Mary Jane isn't a secret mistress anymore.
So, light up that pipe, and peruse these amazing green products:
1. Lube
Mary Jane is taking sexy to the next level — weedgasmic. You won't get the kind of high you would from a hit off the pipe, but canabis-infused personal lubricant is especially great for ladies.
The cannabinoid compounds in these products, such as Foria, pleasurably penetrates female genitalia, heightening sensation and leaving ripples of relaxation.
Add that to the high you get from making sweet love to your sweetheart, and Mary Jane will take you higher.
2. Toothpaste
That's right, good ol' MJ now comes infused in toothpaste, thanks to AXIM Biotechnologies.
The product is called Oraximax, and it does the regular job of toothpaste: cleaning teeth and preventing cavities, plus a little extra.
The cannabinoid CBG boosts the beneficial properties of the toothpaste, with additional anti-inflammatory and antibacterial properties.
Those who endure chronic pain with their teeth and gums will find relief thanks to this product, which also has the effect of bone stimulation, potentially acting as a restorative for cavity damage.
3. Toothpicks
Do you have a bad habit of sucking on toothpicks?
Then you'll love these marijuana-infused toothpicks, aptly nicknamed Walking Sticks. You can now get a buzz discretely and efficiently as you go about your daily routine.
The toothpicks are cannabis-infused, and all you have to do is suck on the Walking Stick for around 20 minutes, rotating it occasionally.
4. Lip balm
Make sure you take the toothpick out of your mouth when you kiss your sweetheart after gifting her weed-infused lip balm.
This product is discrete and perfect for both sexes with chapped lip issues, with the added bonus of a high.
Indica-based lip balm will help you chill out after a long day, or a sativa-based lip balm will give you the perfect pick-me-up.
5. Lotion
Get your smooth groove on with weed-infused lotion, known also as topical cannabis.
The typical high isn't achieved with topical application, but such lotions will help decrease instances of inflammation and pain in the joints and muscles, along with improving skin conditions and skin elasticity.
6. Coffee pods
Your Keurig can kiss MJ's green kush because your coffee game is about to go to the next level.
Here are the weedy deets: Fairwinds Manufacturing has produced cannabis-infused coffee pods as a kind of K-Cup knock off.
Each pod contains 10 milligrams of THC (one dose, according to Washington State law), and it slips right into your Keurig.
7. Acne treatment
CBD, also known as cannabinol, is one of the most closely analyzed cannabinoids, which has gained much attention for its benefits of restoration and rejuvenation.
So, acne treatments specifically infused with CBD actively work to clear up your skin and make it appear younger.
Aside from acne, it can also help with dry skin, scars and rashes.
8. Bath salts
Release muscle tension and block out stress by tuning into your own inner Dalai Lama with cannabis-infused bath salts.
Soothing essential oils and bath salts meet the chill-out properties of cannabis for a powerful combination to end the day perfectly.
When Aunt Flo visits, break out the Mary Jane bath salt mojo.
9. Shampoo
There's something about a good head massage with an amazing-smelling shampoo in a hot shower that lifts your spirits.
Now, imagine that with MJ. Yeah, Herbal Essences commercials beware.
Hemp seed oil is often used in conditioners, shampoos and other body care products due to its ability to moisturize the skin and strengthen the hair.
When trace amounts CBD are introduced to a carrier oil to help penetrate the skin, these benefits are intensified in impact and effect.
10. Patches
The weed-infused patch from Mary's Medicinals will get you higher than most topical products.
With the patch, the release is gradual, so you get a consistent and extended full body high, with a light euphoric mood lift.
Your patch is customizable to any cannabinoid profile: CBD, THC, CBN and more.
On your next road trip to an MJ-friendly state, be sure to give these unique products a try.
Whether you're looking for a new way to feel stoned and chill, or you're seeking to relieve pain or other skin conditions, these products will be sure to help.