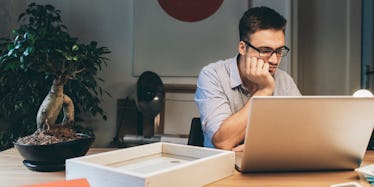 The 10 Weed Essentials For Every Stoner
Stocksy
When it comes to smoking weed, it's vital to always be strapped. No one wants to be unprepared for a blazing excursion, whether you're at home, at a friends house or on the go.
Make sure you're ready for any situation you may find yourself in throughout the day. Be the last stoner any of your friends need. If you play your cards right, the chances of your homies sparking you up become astronomically better.
Are you trying to be the very best, that no one ever was? To catch them is your real test, to train them is your cause. There are some things that a stoner should never go without if they want to live this life.
One hitter (preferably with a dugout)
Tumblr
While this may seem elementary, they really do come in handy especially when you're trying to be low key and on the go. A one hitter typically comes disguised as a cigarette and should go undetected anywhere you are. A dugout is also helpful to have, not only to store your one-hitter, but your buds as well.
Roor bong (preferably with percs)
daviantART
When it comes to bong pieces, every stoner needs a Roor. These pieces of art come big, small, short and tall. Hell, it doesn't even matter which one you get, just know you'll get super baked. Roor sets the standard in the industry with their amazing glass bongs, as 10 out of 10 stoners recommend this brand.
A lighter that isn't white
Tumblr
Always have a lighter on deck. But never use a white one. This rule is as old as smoking weed itself. The legend goes that stoner reggae legend Bob Marley actually died while using one of these things. Can we confirm this? No. Are we going to take our chances? Hell no.
RAW rolling papers with filters
Tumblr
If you're going to roll up, always reach for the RAWs. Similar to the Roor, they hold the standard in the game for the best quality and packaging. They even sell their own line of filters and a tray for you to roll up on. Now that's customer care.
Ozium spray
Tumblr
Need to get rid of that ganja smell in your room before your parents come home? We all know Febreeze doesn't work. If anything, it just layers with the weed to create a new hybrid weed smell. Ozium is scientifically proven to get rid of the must and make your home smell easy breezy beautiful. This works exceptionally well in your car as well. Just smoke a blunt, spray some ozium and roll down the windows for an air out and you should be Gucci.
G-Pen
Tumblr
Sometimes you just have to switch it up. Put yourself on wax by using the sleek, portable G-Pen. All you have to do is press the button, wait for the blue light and then take off. Don't fall for these other fake brands trying to get you high. Buy your very own G-Pen here.
A reliable delivery service (edibles included)
Tumblr
Sure you can cop from your guy down the street and get another two dubs for $35, but sometimes you have to flex on these hoes. While delivery prices are usually inflated, you are paying more for the service if anything. Got a shorty at the crib, but you're not trying to leave the crib to grab some buddha? Call Mr. Nice Guy! There's a snow storm with 15 inches of snow on the ground? Mr. Nice Guy is on the way. And he usually comes with edibles. That's what you call a win-win-win.
Access to a Volcano Vaporizer
Tumblr
Ever wonder what millionaires smoke? They're called Volcanoes. Not only does this look like some kind of mad science experiment, but it requires minimal bud to get you super high. Put in just a dime of weed and watch as this giant weather balloon bag inflates with pure THC. Take a pull and lose your mind.
A jar/prescription bottle
Tumblr
Having a good jar is just as important as having some good weed. Mason jars will often do the trick, but get creative and see what kind of cool glasses you can find. Not only will you be masking the smell, but your weed won't get flattened in your pocket making it optimal to crush up and pour in your blunt or bong.
Grinder
A solid grinder is probably the most vital item that any stoner can possess. Breaking up with your hands can be a complete pain in the ass, especially when your weed is as sticky as mine. Cut that time down and make sure your ingredients are properly broken down for the optimal smoking experience. In most cases, the grinders come with kief catchers, which is like frequent flyer miles for your bud.
Bonus: Shady places to smoke in public
The most important part of smoking -- never get caught. Sometimes you have to take your talents to the public eye, so just know your surroundings and pick good spots to post up and burn one down. Always make sure to keep it moving and change up your spots every once in a while. Smoke mad weed and never get bagged by the cops. That's the name of the game.