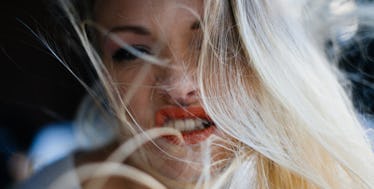 17 Reasons Why Syracuse University Is The Number 1 Party School In America
Yesterday, Syracuse University was deemed the #1 party school in the nation by the Princeton Review. I'd argue that it's the best school in the nation, but we'll settle for the top spot in knowing how to have fun.
Here are 17 reasons why Syracuse University is the number one party school in the nation.
1. Basketball Season
Syracuse is known for consistently having one of the more powerful basketball franchises in NCAA history.
Despite the blistering upstate cold, the flame stayed lit for the SU men's basketball team as they marched through the first 25 games of the season. Not to mention going undefeated for the first 25 games. Drink!
2. Mayfest
Mayfest is known for being one of Syracuse's most longstanding traditions. This weekend darty takes place all over campus, but most noticeably in Walnut Park.
Did we mention that the students get treated to free beer, burgers and live entertainment all throughout the day leading up to Block Party?
3. Block Party
Let's say that you decide to make the most out of your Mayfest and start the festivities at 8 am sharp. Make sure you keep enough energy in the tank to keep turning up for the rest of the night.
Most recently, the University was graced with A$AP Ferg, Zedd and 2 Chainz. You can only wonder what University Union has in store for this year.
4. Juice Jam
What better way to start off the school year than with an outdoor concert featuring two stages and six different acts?
Last year's talent included Kendrick Lamar and Nicky Romero, ya bish.
5. Greek Life
With over 50 different organizations in Greek Life to choose from, Syracuse lets you pick how you want to party.
Don't make the wrong decision or you might end up at DJ's on the Boulevard… don't end up at DJ's on the Boulevard.
6. Castle Court
From the tailgates to the massive parties like Cinco de Mayo, Castle Court is known for being the epicenter of chaos during the school year. Don't believe me? Fast forward to the 2:28 mark.
7. School Spirit
8. Tailgates
Tailgate season is the bread and butter of the school year. There's nothing like an 8 am wakeup to start celebrating what you hope will be a win. Good luck making it to the game.
9. Concerts
J. Cole, Wiz Khalifa, Hardwell, Tiësto, Avicii, 2Chainz and Rick Ross are a few artists who have found their way up north to perform at Syracuse.
Needless to say, the extensive list of talent almost makes up for living in a tundra.
10. The Bars
From the classic, old-fashioned Faegan's pub to the sweaty basement known as Harry's, there's a bar for everyone on campus.
The Orange, formerly known as Lucy's, is the newly renovated bar on campus. The prideful atmosphere makes it easy to treat every Tuesday like it's the last Tuesday of the year.
11. The Marshall Street Legend
William Halsey
Gertis "Big Papi" McDowell will always be THE Marshall Street legend. Next time you hear his over-joyous "Hey pretty lady!", stop by and chat with him.
He'll teach you a thing or two about 'Cuse traditions worth celebrating.
12. Faegans Beer Tour
As a senior, it's only right that you complete the beer tour at Faegan's. Four different tours take place each Tuesday of the week and, upon completion, your name gets engraved in a plaque.
But more importantly, you've had every beer that Faegan's has on the menu.
13. Chuck's Happy Hour
The happiest of hours commences at 6 pm at Chuck's Cafe. If there is one thing that I will miss, it's the Cindy shots... and the $3 pitchers... and the basketball arcade machine... I'll stop reminiscing now.
14. Armory Square
Don't rule out Armory Square because it's not on campus. Even though it may only be 10 minutes away, you get a complete change of scenery. When you get tired of the frat parties, head out Empire Brewery or Benjamin's.
15. Sliders: Where Legends Are Made
Many people have fallen victim to the Slider's Challenge. You're given an hour to finish 20 burgers, a large fries and a large drink. Many kudos to you if you can complete the challenge.
You'll leave that establishment with a t-shirt and a hell of a story.
16. Nice Weather
Syracuse is notorious for it's tundra-like conditions, so the students have to take advantage of the sun whenever they can.
It may be a group of five or a party with a couple hundred people, but you better believe that someone is making the most out of the day.
17. Frat Row
Looking down Comstock or Walnut Avenue, you will see Greek organization after Greek organization. And in front of each chapter house, you will find a frat lawn created for Slip 'N Slides and tossing footballs.
Photo Courtesy: Instagram