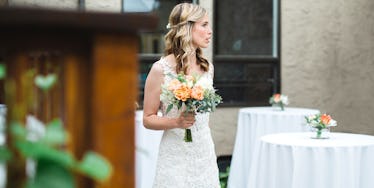 Graduates, Stop Coming To New York: 5 Other Great Cities To Consider For Post-Grad Life
Stocksy
New York City is a popular option for many college graduates who are looking to make a big move. Mostly growing up in the city and then attending college here, I understand the appeal.
A lot of people move to New York hoping to find that romantic, idealized version of the city they hear about or see in movies, and that's not a bad reason.
The city, like everything else, is what you make it; it can be magical and beautiful, but it can also be lonely and scary. Alicia Keys and Jay Z are right — this could be a concrete jungle where dreams are made of, but that doesn't always hold true.
New York is very much a place for go-getters, for people who know what they want, know how to get it and don't stop until they have it.
It's just not the place for everyone. Instead of running the risk of going entirely broke from paying NYC rent prices, maybe consider a place that would be better suited to your lifestyle.
Here are the top cities to consider when deciding where to move after college. Not all of them have stellar job markets currently, but hey, neither does New York (the city's unemployment rate is still significantly higher than that of the nation's).
Portland
Portland, the place "where young people go to retire," has been on college graduates' radars for a few years now.
The show "Portlandia" made a parody out of the high number of young people flocking to the city, portraying the residents' penchant for living sustainability, eating organically, riding bikes, frequenting trendy cafes and spending weekends in bookstores.
But for the right person, the city does have a certain charm and a lot to offer. In 2008, Portland was voted the #1 greenest city by Popular Science, #5 for cleanest cities by Forbes, #1 best city to have a baby by Fit Pregnancy and the #2 largest bicycle commuter city by Bicyclist.
This year, Portland ranked as one of the happiest cities in the country. It also has the world's largest bookstore, Powell's City of Books. Retiring young doesn't sound too bad, does it?
Seattle
Many people say Seattle is Portland's slightly less cool, less hip sibling, but the city might be a nice change of pace for the more professional type.
Seattle has a relatively strong economy, the highest percentage of residents with a college degree or higher, and the highest per capita share of technology-dependent jobs in the country.
Seattle, in the top-five list of safest cities in America, also has some other interesting things going for it.
Almost 15 percent of Seattle's total land area is made up of parks and open areas, the Farmer's Market at Pike Place Market is the oldest continually operated farmers' market in the country, and the city was the first to play a Beatles song on the radio. If you can live with the overcast sky and drizzle, Seattle might be the place for you.
Austin
If you want to go somewhere that's liberal but still has an element of southern twang, try Austin. Although the city is in Texas, Austin is one of the most liberal places in the country and has an incredible amount of distinct culture, exciting nightlife, delicious food and fun events.
In August, Austin was #1 on the list of cities for best job growth, so finding a post-grad gig might be a little easier there.
The city also has a low cost of living, so paying for all that beer and food on your drunken nights shouldn't be too much of a financial burden.
Plus, each year the city hosts South by Southwest, a film, interactive and music festival that brings together industry people from all over for about two weeks of insanity and chaos.
San Francisco
For every negative people name to living in San Francisco, there is also a positive. The city has some of the most expensive rent prices, even beating out New York. But if you can find a good job (maybe in the tech industry) to pay the rent, you're sure to smile as you go to work every day.
San Francisco is one of the happiest cities to work and employees are more than satisfied with their coworkers and daily tasks.
You'll also be encouraged to adopt a healthier lifestyle there. San Francisco is home to an insane number of bikram yoga studios, and the city was voted the #1 best city for organic food by Organic Authority in 2013 and one of the most vegan- and vegetarian-friendly places to live by PETA.
In addition, San Francisco recently installed miles on miles of new bikes lanes. The only unhealthy part might be all the burritos you'll eat; the city is known for having the best, most authentic burritos in the country.
Boulder
Then, of course, there's Boulder. If you're a nature person who still wants a small sense of a city, this is the place for you.
Boulder has an abundance of outdoorsy activities, including some of the country's best skiing, and promotes a sustainable lifestyle with endless vegetarian, vegan and organic food options; as a result, Boulder was named the least obese city in America for three years in a row.
Boulder also takes public health seriously; the city has extremely clean air and water, thanks to the use of renewable energy sources and frequent water testing.
I can also imagine that the beautiful mountain scenery and constant sunshine make it hard to be depressed there. Financially, Boulder isn't doing too badly, either.
The city's annual wage is much higher than the national average and the cost of living is lower than the national average. And don't forget that the recreational use of marijuana is now legal throughout the state.
Top Photo Courtesy: Shutterstock