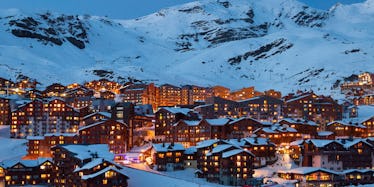 14 Insane Ski Chalets That Embody Vacation Goals
Shutterstock
I don't ski. In fact, I've never even tried to ski.
Putting me on the top of a hill, strapped to two oddly-shaped pieces of fiberglass, on top of slippery snow? I'm basically the Queen of Klutz. You might as well wait at the bottom of the hill with the neck brace I'll have to wear after my inevitable fall.
But let's be honest: Skiing isn't even the best part of the ski experience — that distinction goes to the ski chalet.
I may not have attempted the winter sport, but even I am not immune to the charms of a beautiful ski chalet.
It's just the perfect mental image of relaxation: Looking out over snowy mountains, while you're toasty and warm on a bearskin rug, sipping hot cocoa.
Doesn't matter whether we're talking about Colorado, Canada, Switzerland or France — these luxurious ski chalets embody your winter #VacationGoals.
The Lodge, Verbier, Switzerland
San Lorenzo Mountain Lodge, Dolomites, Italy
If the fireplaces don't keep you warm enough, the extensive wine cellar certainly will.
Villa Gella, Pamporovo, Bulgaria
Pioneer Springs, Aspen, Colorado
You and 14 of your closest friends can share this seven-bedroom behemoth and wake up to the dream-like mountain views through floor-to-ceiling windows.
Chalet Spa, Verbier, Switzerland
You'll need a good night's sleep after all those winter sports, and Chalet Spa is happy to facilitate. The bedrooms feature handmade Swiss mattresses covered in satin-cotton sheets and cashmere blankets, as well as glass fireplaces that don't obstruct the breathtaking vistas.
Crescendo at Big White, British Columbia, Canada
Who needs a nightlife when you have everything at your disposal right downstairs? This 5,000-square-foot dream has you covered with rec, theater and game rooms.
La Ferme De Belleville, St. Martin De Belleville, France
La Ferme De Belleville is a 400-year-old farmhouse that is quaint AF. Something that it didn't offer 400 years ago? A driver who picks you up and takes you to a nearby spa for local milk-and-honey wraps.
Das Kransbach, Krun, Germany
The nearby slopes of Alpenwelt Karwendel are home to some of the world's elite winter athletes. The proximity to greatness is bound to elevate your ski game to new heights.
Zermatt Peak, Zermatt, Switzerland
Luxury, Park City, Utah
Luxury, you also need to stop. The pictures are enough; you didn't need the name too.
Hidden Dragon, Vallees, Switzerland
This Asian-inspired chalet will help you find your center with feng shui-based design, and then find the heat with special ski boot warmers. Who knew that was a thing?
Eagle's Nest, Val d'Isere, France
You could travel to the Alps to be cold in the mountains…or you could opt for Eagle's Nest and stay toasty warm in its sauna, steam room or heated pool.
Bighorn, Revelstoke, Canada
Bighorn is a heli-ski chalet. What is that you ask? Oh, just your standard chalet equipped with a private helipad for your helicopter. NBD.
Chalet N, Oberlech, Austria
The showers at Chalet N feature Swarovski crystal curtains. I think that's what you call a luxe mic drop.
T-Mobile's Simple Global makes it possible to connect with your loved ones in 145 countries. And now with the new Mobile Without Borders program, you can talk and text to/from Canada and Mexico at no extra charge.  Thanks to T-Mobile, skiing around the world has never been easier.