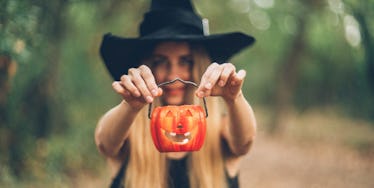 All About Nostalgia: Why Millennials Are So Obsessed With Halloween
Every year, when the first of October hits, there's a shift in the air and the distant voice of childhood is calling.
Green leaves turn to golden browns, boots and scarves are pulled from the depths of our closets and farmer's markets begin stacking piles of plump pumpkins for picking.
There's something about Halloween that everyone -- especially Millennials — loves.
With the changing leaves and crisp winds, a feeling of nostalgia also blows through every autumn, giving adults a chance to be kids once again.
When you're a child, there's a certain feeling of enchantment in the air around Halloween.
Whether it's bobbing for apples, being wrapped like a mummy in toilet paper or going door-to-door to see who can collect the most candy, once a year rarely seems enough.
On Halloween, the candy tastes just a little bit sweeter, the cold air feels just a little bit sharper and the moon shines just a little bit brighter.
There is a tangible excitement, what feels like magic, that surrounds late October festivities. It's something that as we grow up, we ache to return to.
So why are Millennials so obsessed with Halloween?
Because it's the one day of the year that gives us the opportunity to play again.
We can go to an apple orchard and reach for the highest branches and juicest fruit. We spend hours running through corn mazes and up and down rows of misshapen pumpkins, looking for the perfect one.
We bring out our inner kid and our inner artist, as we carve away chunks of cold pumpkin, and throw the seeds and some salt onto a baking tray.
Halloween lets us become nostalgically creative: in our food, our outfits and our atmosphere.
We can try our hand at every pumpkin recipe conceivable.
I'm talking pumpkin cookies, pumpkin cakes, pumpkin cider and now that we're older, pumpkin beer. Paired with a handful of candy corn or a few gingersnaps, just the flavor and taste of these seasonal treats will remind us of all the Halloweens past.
Then of course, there's dressing up.
No matter how old you are, there's nothing like going to into a costume store, rummaging through flimsy masks and velvet capes to find your perfect disguise for the year.
When else is it acceptable to walk down the streets carrying a broomstick, or sporting a pair of vampire fangs?
As adults, even more so than kids, we have the ability to represent anything we want – to make others laugh, gawk, or even shudder in fear (depending on your preference).
Now that we're older, our costumes and our decorating skills (with the help of Pinterest) are a force to be reckoned with.
With long staircases cloaked in spider webs, tall candles glowing around the kitchen, orange lights and bubbling cauldrons sitting by the front door, we Millennials know how create an atmosphere.
It's spooky, fun and reminiscent of something magical that only Halloween can produce.
Also, let's not forget the abundance of Halloween film classics.
For horror fans there's "Friday the 13th" or "Nightmare on Elm Street."
For the kids at heart, there's "Halloweentown" and "Hocus Pocus."
Watching these old flicks (shout out to the 90s) takes us back to when they first came out, when we'd wait all year for them to come on television so we could hunker down with a warm glass of apple cider and watch in awe as The Sanderson Sisters ran "a muck."
From apple picking to pumpkin carving, costume parties and beyond, everything about Halloween in rooted in tradition.
They're the customs we began as children, saved for one special time of year. Customs that no matter how old you get, will always be exciting and bring out the inner kid inside of all of us.
Call us nostalgic because we are. Maybe we can't go door to door screaming, "trick-or-treat!" but Halloween lets us reflect on the past through actions of the present.
Pumpkins, witches, cider and ghosts, bring it on.
We Millennials can't get enough.