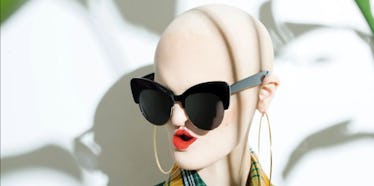 Who Is Melanie Gaydos? How She's Breaking Barriers In The Fashion Industry
Lisa Klappe
Melanie Gaydos is a 28-year-old model living in Seattle who is changing the industry standards in the fashion world.
Gaydos was born with Ectodermal dysplasia (ED), the blanket term for a group of closely related conditions with over 150 different syndromes identified. Among the symptoms of ED are the absence or abnormality of hair, teeth, nails, fingers, and irregular skin pigmentation.
Gaydos is partially blind because of an eyelash growth that scratched her eyes, has alopecia, and has endured three different dental implants — eventually opting to remove her dentures altogether due to her eating preferences, as reported by The Independent.
She began modeling as an art student at Pratt Institute when her professor asked her to pose for a shoot, after falling in love with the self-portraits she drew of herself.
Gaydos described how the experience inspired her to take modeling seriously to Cosmopolitan.
The model shared,
I knew that I was the only person who looked like me. I was the only person who had my sense of vision and such a unique way of looking at the world.
Afterward, Gaydos began posing for photographers she found on Craigslist, and has since modeled for i-D, Galore, and Love magazines. In 2015, she walked the Nina Athanasiou runway for New York Fashion Week.
She has also gained quite a following with an Instagram that serves up its own digital museum vibes and has attracted 126,000 followers.
The kicker? Gaydos has single-handedly accomplished all of this bad-assery with no modeling agency contract and no manager.
Still, Gaydos' Journey Has Not Been Without Struggle
The model endured bullying in elementary school and is even open about once having suicidal thoughts. She leaned into her creativity to pull herself into a better place.
Gaydos tells Elite Daily,
I created a lot of art work and kinda became really hopeful and true to myself. I knew that there was a bigger reason as to why I was still here and other wise, I wouldn't have still been alive. I really just try to keep out the negativity and look forward. It was really hard but I realized a lot with creating in general. That's what got me through my days.
And Her Days Are Looking Incredibly Bright
Gaydos is a busy woman.
She recently wrapped up a music video in LA for an artist that cannot be revealed at the time of publication, will travel to New York this weekend for three days to meet with old clients, and will then hop on a plane to shoot for Berlin Fashion Week.
I'm tired just from writing that, but Gaydos' voice gave away her excitement on the phone. She's got dreams of not only modeling for the Alexander McQueen fashion house one day (he was one of the inspirations for her to start her career), but also to continue changing mainstream beauty standards.
As Gaydos gushed over the phone about how much she loved working with photographer, Tim Walker, and all of the projects she has coming up, one of the most important jobs for her is simply shaking things up in the fashion industry.
The model described how she feels about people gravitating to her. She tells Elite Daily,
It feels amazing. It's strange because I'm not really doing anything differently that I haven't been doing before. But it's really awesome to know that people are now starting to be more open and accepting of someone like me in the fashion industry. I'm really interested in social change and I really think it's a sign that we're evolving as a society and that means more to me than anything.