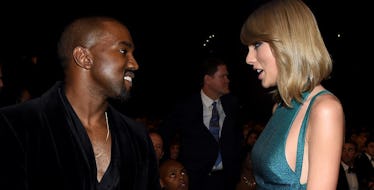 Here's Why Kanye West Is Totally Right About Bitches
Getty Images
Bitches come in many forms.  There's the "basic bitch" with her Ugg boots and Starbucks concoction.
There's the "boss bitch" who, as Tina Fey says, "gets stuff done."
There's the "ride-or-die bitch" who will never leave her other bitches hanging.
There are "bitchen waves," "bitchy people," "dumb bitches," "fake bitches" -- really, there's an innumerable variety of bitches.
In fact, there are so many forms of bitches that according to Merriam Webster, "bitch" is in the top 10 percent of most-used words.
The term was first used in the 11th century and comes from the middle English word "bicche."
Since its genesis, it's been used as the ultimate insult to women... until women -- and now Kanye West -- decided to take the term in a new direction.
In case you missed it (and I envy you if you did), last week, Kanye set off a firestorm by releasing the lyrics to his new song "Famous," which read:
I feel like me and Taylor might still have sex Why? I made that bitch famous God damn I made that bitch famous
Nearly instantaneously, the whole of the Internet erupted in fury over Kanye's alleged misogynistic comments toward beloved pop princess Taylor Swift.
He quickly defended himself by tweeting that not only did Taylor approve of the lyric, but that the word "bitch" isn't an insult in hip-hop, it's a term of endearment.
Kanye's argument for his use of the word employs plenty of sophistry, but is he actually wrong in his thinking that "bitch" is a term capable of emoting affection?
According to science, theory and data, yes, "bitch" can mean something positive, but only when owned by the bad ass bitches it references.
You see, women took ownership of the word far before one rapper gave us all permission to.
As Clare Bayley points out in her essay, "Bitch: A History," women during the second-wave feminist movement of the late '60s not only took charge of the word, but also made it their own.
As Bayley notes, in 1968 Jo Freeman published "The BITCH Manifesto" that can essentially be summed up as "real recognize real." The document reads,
Our society has defined humanity as male, and female as something other than male. In this way, females could be human only by living vicariously thru a male. To be able to live, a woman has to agree to serve, honor, and obey a man and what she gets in exchange is at best a shadow life. Bitches refuse to serve, honor or obey anyone. They demand to be fully functioning human beings, not just shadows. They want to be both female and human.
It was during this time that women realized all the qualities of a bitch -- her ferociousness, her willingness to protect and provide for her pups and her eagerness to strike out and hunt on her own -- fit with all the positive qualities women strive for.
Sure, today you'll find harcore bitches in nearly every rap and pop song around.
Lil' Kim brought us the "Queen Bitch."
Nicki Minaj brought us the "Boss Bitch."
Madonna brought the world the "Unapologetic Bitch."
And Britney Spears lovingly reminded us all that if you want all the finer things in life (Who doesn't want a Bugatti, a Maserati or, for that matter, a hot body?), "you better work, bitch."
Despite its illustrious history, there's something in the word that hits every single wrong nerve when a man suggests a woman is "lesser than" by being his bitch.
(Think Kanye is alone in his use of "bitch"? In 2013, TIME calculated that 109 out of 217 Jay Z songs contain the term to a "varying degree of offensiveness.")
And that, simply put, is where Kanye got it wrong. Kanye does not own the word. Women do.
To back up the idea that only certain groups can "own" words, Columbia University psychological scientist Adam Galinsky and several colleagues ran 10 experiments to find a model of language ownership.
As the group found, when these terms are taken from the hands of those using them to disparage and instead placed within the group at which they are aimed, it helps to "weaken the stigmatizing potency of the slurs," as Wray Herbert of the Association for Psychological Science synthesizes.
As Galinsky's work further concludes,
...these labels were evaluated less negatively after self-labeling, and this attenuation of stigma was mediated by perceived power. These effects occurred only for derogatory terms (eg, queer, bitch), and not for descriptive (eg, woman) or majority-group (eg, straight) labels. These results suggest that self-labeling with a derogatory label can weaken the label's stigmatizing force.
So yes, Kanye, "bitch" can be used as a term of endearment. Just not by you.