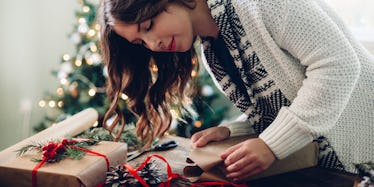 Here's How You Can Buy All The Gifts On Your List Without Breaking The Bank
Lumina
This is probably the hardest thing I've ever had to write because Christmas is my favorite time of year.
The only thing I love more than waking up on Christmas morning and getting presents is giving them. My whole life, I've LOVED giving presents.
Maybe it's because I love seeing those faces of pure joy when people open their boxes, or maybe it's because of all the love and appreciation in the air, but I live and breathe for giving gifts.
Of course, with that, I tend to overspend every year, and all my savings go down the toilet.
I'm also the lucky child of two December babies, and their birthdays are on the 22 and the 28. (It's basically second Christmas for both of them.)
So this year, even though I've already bought most of my Christmas (and birthday) gifts, I came up with a strategy to not overspend during the most wonderful time of the year.
Here are four ways to make it though the holidays without going broke:
1. Make a list.
Maybe it's because I just graduated from college and I work in an office where there are Post-it notes everywhere, but I love making lists.
So, why not make a present list? I separated mine by person, gift and by estimated cost of what they wanted and what I wanted to give them.
Then, I added it up and started saving.
I know it's already December, but seriously, just save a couple of bucks here and there. Put some money aside from your paycheck, and maybe don't order from Seamless (well, at least tonight).
Trust me, it helps in the long run.
2. Subscribe to everything.
I absolutely hate it when my email inbox is full, so this one is a tough one for me. The point of this is so you don't miss any sales.
After you make your list, go on a hunt for every possible place where you can buy your gifts, and subscribe to their email lists.
I get about 100 emails a day, but it's so worth it. I can't tell you how many sales I've caught in those emails and how much money I've saved in the long run.
I know it's past Black Friday, and you're probably thinking all the sales are over and done with, but that's where you're wrong.
The sales are just beginning.
3. Partner up.
Thank God I have a sister. If it weren't for her, I actually would not have any money left in my bank account after the holidays. (My heart would also stop working because she's everything to me).
A long time ago, we realized it didn't make any sense for us to buy crappy gifts on our own, when we could buy better gifts together.
I cannot tell you how much better the reactions are now that we're not buying tiny gifts on our own, but bigger, better gifts that we split down the middle.
This may sound a little cheap, but my parents LOVE it. Not only are they getting pretty awesome gifts, but they also think it's nice how my sister and I plan everything out together.
4. Stop spending money on packaging.
I get it, you want your presents to be as Instagrammable as possible, but buying all new wrapping paper and ribbon every year is so not necessary.
I've always stocked up on the stuff the day after Christmas, but because you need advice for this coming Christmas, let me give you some: Go to the dollar store.
I'm sure, wherever you are, you'll find a Dollar Tree that has some pretty cute packaging. And everything is $1. You're welcome.
I don't want to dampen anyone's Christmas, but I also want each and every one of you to have enough money to treat yourselves during the day after Christmas sales.
After all that planning, you totally deserve it. Merry Christmas, my savvy shopaholics!