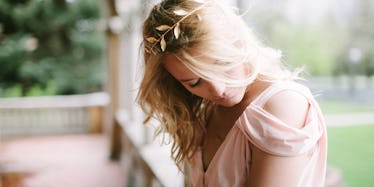 6 Tips For Every 20-Something To Remember Upon Signing A Lease Independently
Stocksy
Being independent is what most young adults want in life.
There's this feeling of excitement that comes with freedom from parents and living alone, but the big responsibilities are often overlooked, like getting your own place. 
When you realize the difficulty, you might feel the urge to call your parents for help. If you want to prove your independence, though, that's typically the very last resort.
Luckily for Millennials, it's easy to get a lot of advice for renting your first place. These days, it's important to know the ins and outs of the process to avoid being taken advantage of. Here is a handful of tips to get you started:
Find Your Ideal Living Space
This takes time. You should have a list of necessary apartment qualities beforehand and concentrate on what you are looking for in a place to rent. You should also know your budget and how much you can allocate to rent in addition to the other utility costs and bills you'll have to pay.
Aside from the aesthetic and size of a listing, there are other considerations you should take into account, such as the location and accessibility to important establishments, transportation systems, schools and offices.
You may be lucky enough to find several living spaces for rent that seem to suit your ideals, which is why you should check them all out.
Visit The Chosen Unit
If you've found a dwelling you like, visit the place and check the exterior and interior of the unit. In terms of exterior, check for available parking, noise level, any smells and the surroundings in general.
In terms of the interiors, visualize the space being occupied by your belongings to figure out if it's appropriate for what you intent on bringing.
Locate electrical outlets, as well as telephone, cable and Internet plugs, and make sure what the place has works with your lifestyle.
Check if there's laundry in the building or nearby. Most importantly, check if your cellphone gets service in every area of the unit. Don't forget to check the windows and doors to make sure they're easily locked, safe, secure and ready for use.
Visiting a potential spot for the first time can also be a chance to talk personally with the landlord or current tenants. This is the time for you to ask questions and gather more specific information.
These concerns include the monthly rent, amenities, payment terms, first-time renter requirements, due dates, issues in maintenance and repairs, as well as making changes or modifications to the unit. You should be able to politely clarify all conditions you want to know.
Make A Checklist And Take Pictures
As you visit, make a checklist of what you see inside and outside the residence. Closely inspect every little detail before deciding to move in.
Test out the furnishings that are fixed inside, such as cabinets, drawers, closets, toilet flushers, faucets and drainage.
Take note of anything that isn't working properly, is completely broken or needs replacement, like worn-out bulbs and fluorescent lights.
Look for areas with mold and mildew or insect and pest infestation. Check for cracks in walls, ceilings and floors and chipped paint. If you find any problems, inform the landlord about these concerns right away.
Also, one of the most common buyer mistakes is not taking pictures of the place before moving in. The reason for making checklists and taking photos is to prevent the landlord from blaming you for any pre-existing problems in the unit.
If the landlord ever blames you for these nicks and dents, you can present the photos you took on your initial visit to prove that the damages were there before you were.
Read The Written Agreement Carefully
After all has been settled, the landlord will have you sign some papers. Before you sign the agreement, make sure to read each and every part of the terms and conditions.
The most important stipulation before becoming a first-time renter is to carefully review the contract because it dictates the house rules for your entire stay.
No changes are allowed once you sign the paper, so allow the landlord to hear what you have to say about the document before you bring your pen to the dotted line. There might be some items you just cannot agree on.
Check the payment rules and be sure you have what is required for the initial amount before signing. Usually, landlords need a deposit and the first month's rent to commence a lease.
Check on how long the agreement will be valid and what will happen after the rental term has ended. Is there a possibility for renewal and continuous rental? Clarify the payment terms.
Look for the rules covering who is responsible for utility costs, repairs and maintenance costs, permission to change things within the unit, as well as pet and smoking rules if need be. In general, make sure that the contract suits your lifestyle and is mutually agreed upon by you and the landlord.
Get To Know Your Landlord And Neighbors
You will most likely interact with these people, whether you like it or not. It's better to find out who you're dealing with in order to be able to spend peaceful days ahead.
Your landlord might be a huge pain who constantly nags his tenants, he could live next door to you, or maybe he can freely go in and out of your unit even after you have moved in.
This can be a problem. There will be times when your neighbors are difficult to deal with, especially if they are really noisy, smelly, untidy or any other negative trait that could affect your new life.
It is essential for a first-time renter to be able to make friends and be comfortable with the people surrounding him or her.
Tough And Fun At The Same Time
Deciding to live alone and on your own is undoubtedly exciting, especially if you've spent most of your life with parents or sharing your personal space.
However, never underestimate the challenges that accompany getting your first apartment and the inconvenience of the whole rental process that comes before you can ultimately consider the new place home.
Now that you already know how to lessen the grief of facing renting issues, though, you can finally say that you are ready to move into your own place!
Photo Courtesy: Tumblr