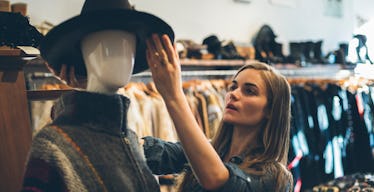 Why College Is The Perfect Time To Step Out Of Your Comfort Zone
Stocksy
It seemed like as soon as I set foot on campus for summer orientation, everyone was encouraging me to get involved and join clubs.
Sure, it seemed like a good idea, but I was commuting my freshman year, so I didn't think I needed to.
Looking back, however, doing so may have helped me feel more a part of the campus community.
I'm here to tell you to join clubs and organizations in college and step out of your comfort zone. I didn't get involved until second semester of my sophomore year.
After my freshman year, I decided I wanted to live on campus, and since I didn't know many people freshman year (due to commuting and sticking with the "get-up-go-to-classes-go-back-home" routine all year), I was pretty lonely during the first semester sophomore year. I had a lot free time on my hands.
Not wanting to spend another semester like that, I began applying for different organizations.
I was accepted for all three in which I was interested, and if it wasn't for those positions, I don't think I'd be as happy and confident as I am today.
For as long as I can remember, I've been on the quieter side; I don't do many risky things.
Now, I'm not saying joining a club is risky, but I've never been too involved, even back in high school.
Applying for leadership positions is what I considered to be stepping out of my comfort zone.
You may not know ahead of time what the outcome will be, but take a chance because you'll never know what could happen.
For me, it meant working closely with the Office of Student Activities on spring events as the publicity chair (which brings a recording artist or comedian to campus), volunteering in the Athletics Communication Department, joining the Class of 2016 Student Council, becoming a part of the Alpha Lambda Delta freshman honor society leadership team, meeting a bunch of new people and finding my boyfriend.
My boyfriend and I met on the spring event committee last year and we just went through our second one together this month, as Gabriel Iglesias performed in our field house.
If I hadn't branched out, I don't think I would have ever met my boyfriend.
It's a funny story how we met, and everyone on the committee was surprised when we announced we were officially dating two weeks before the concert last year.
I've been able to make a lot of new friendships, and walking through the campus center, I typically see two or three people I know.
It makes me feel like I'm much more connected to the campus and feel like this is my home.
My campus is small to begin with (about 2,500 undergrads), but you can still feel disconnected, as I did freshman year, if you don't know people.
I'm also a lot busier than I was during my first year, especially during the spring semester, when we're planning the spring event.
Between working in two different departments (because of spring event, I now work in student activities as a marketing consultant), having at least one meeting a day, plus being in class for most of the day, I'm hardly in my apartment.
I'm grateful for any free time I have. I know people who have a lot more going on than I do, but for me, I've never been this busy.
One of the perks is I've learned how to schedule things intelligently, and doing so it keeps me organized.
I've found a good balance of being involved and also having time to myself to spend with friends and Netflix. It's important to still take some time for yourself so you don't end up burned out and overstressed.
Another perk of being involved is having great things to put on my résumé.
Some people may be involved with everything on campus for résumé boosters, but I'm in it for the experiences.
The summer after my sophomore year, I interned with a local collegiate summer baseball team, and I felt confident going into the interview because of being involved on campus and the skills I had acquired.
Working in the Athletic Communication Department, I write news releases, work on the website and sometimes take action photos of games.
I was able to take these skills and apply them to my internship to be successful (while pouring beers and ripping tickets for the summer).
I was able to score another internship for the summer at a small marketing group thanks to connections from my business communications class.
When I was applying, we were starting to plan spring event, so I was able to use that process as an example of promotional work I have done outside of the classroom (creating posters, managing the social media accounts and planning a time to release the name of the act).
Looking back, I'm proud of myself for acknowledging something needed to change in my life because I deserve to be happy and surrounded by good people.
I was able to accomplish this by stepping out of my comfort zone and becoming involved on campus.
Heck, I even met my boyfriend this way, so you can bet I wouldn't be this lucky had I not put myself out there.
If you're wary about joining a club or organization on your campus, just do it.
Campuses typically have expos in the beginning of the semesters for organizations in clubs so you can ask questions and sign up.
The student activities or student affairs offices are great resources, and they can steer you in the right direction.
Taking chances can be scary, but just do it.
Coming from someone who jumped in feet first, it's completely worth it.