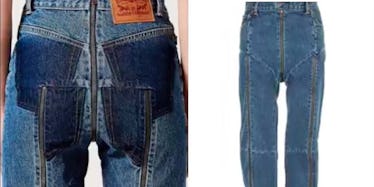 These Jeans Have A Zipper For Your Butt And We Have So Many Questions About It
YouTube
It's 90 degrees outside. The sun is beating down on your neck, and your clothes are clinging to your skin. Sweat drips down your back, and all of a sudden, your jeans are almost unbearable to wear any longer.
At this point, you've got two options: Put on shorts or deal with it. And though sometimes, shorts are the way to go, there are quite a few occasions that call for the professional look of pants.
Well, fret no more. Vetements has found the perfect compromise for you.
Instead of ditching jeans for something with a bit more circulation, why not just unzip your jeans down your butt crack?
The future of fashion is here.
You thought we were kidding? This is the ultimate day-to-night look.
As part of its partnership with Levis, Vetements has come out with its new pair of "high-rise distressed" jeans. Nothing in that title alludes to the zipper down your butt crack, but there it is.
It's worth noting the jeans also have zippers going down the back of the leg as well.
If you need some color variety, the pants also come in black.
This is fashion, folks. We don't have to understand it – but we can poke some fun at it.
Although it's known for being extremely expensive, the past couple of years have proven Vetements is one of the major tastemakers in fashion, which is why it'll get away with selling these new zipper-heavy jeans for $1,870.
Alternative, cheaper solution? Assless chaps.
Still, the price shouldn't even come as a surprise, considering Vetements sells a regular old DHL t-shirt for $330 ( while you can order a t-shirt from the actual company for $14.99).
So, if you're looking for a perfect pair of jeans that double as a statement piece, but you also kind of want a ticket for public indecency, we've found the perfect item for you.
Citations: Vetements Have Created Jeans With A Window For Your Butt (Metro UK)