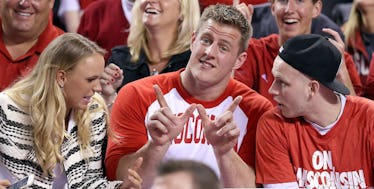 5 People, 4 Places And 3 Things That Make Madison An Ideal Playground
Facebook
Few cities see its inhabitants go from degenerate drunks to functioning members of society in a 24-hour period.
But, with its combination of volatile college students, clashing politicians and leftover hippies, Madison is a breeding ground for poor decisions and good stories.
Once you wake up with a pocket full of Sour Skittles and a hangover that could kill a toddler, check your schedule.
No work? No class? No (immediate) responsibilities? Grab a pint, relax and enjoy the city. Here are some people, places and things that make Madison the ideal playground:
The People
1. Deranged UW-Madison students
Jaded by life as a struggling American student and pumped full of study drug amphetamines, this group can go from scholars to sinners within an hour — happy hour, to be specific.
They'll drink you under the table, pass out on your lawn and then wake up in time to learn about the intricacies of microeconomic markets.
2. Street guitarists
They're no Lou Reed, but they'll entertain you as long as you're in earshot. If you make eye contact, they'll even give you a quick shout out, albeit most of the time, it's to ask for your money.
Their music is a quick reminder there's a farmhouse ale waiting for you at the end of the workday.
Be careful, though. If you get too comfortable, you could wind up playing your harmonica at 3 am on State Street with a bearded man named Ghost.
3. Folks who came and never left
Ask for a light, and they'll give you a tall tale. They'll regale you with the time they built a raft out of coolers and hemp and sailed across Lake Mendota. You'll see a little bit of yourself in all of their faces. There is a satisfaction in their eyes that's stayed with them through the years, ever since the day they tore up their return tickets home.
4. Scholars
If you can't find anyone to talk to at the party, look for the scholars, who are most likely drinking Old Fashioneds in the corner. (Did we buy bitters?)
They'll always have something to talk about, and you may learn a thing or two. Don't be fooled here, either.
These guys will knock back a few cocktails and give a dissertation on the foam in your cup.
5. Your friendly neighborhood bartender
These are the guys and gals who prepare your Long Island iced teas with care and generosity.
They're busting their asses back there and cracking terrible jokes so you can slug from a plastic cup (most of the time, forgetting about the tip).
Make friends with them if you can. Hell, make friends with everyone on this list. You won't be disappointed.
The Places
1. The Terrace
Madison only sees sunshine and warm temperatures for a few months out of the year, so you need to make the most out of those perfect days.
Take a load off in a notoriously colorful terrace chair and pick up a pitcher of Spotted Cow. People watch, catch a tan and enjoy Lake Mendota.
If you get a little too tipsy and think it's a good idea to take a terrace chair home for your living room, be wary. Rumor has it getting caught could cost you up to $10,000.
2. State Street
This is a playground within the playground. State Street is like the best slide in the park that everyone wants to ride; it's the one that curls and goes faster than all the rest, and it sends you home stumbling and proud that you made it down with your shoes still on.
It has interesting people, great food and even better drinks. You can pick any of one of the bars you see, from the rustic and traditional State Street Brats to the lively Piano Bar.
The Wisconsin State Capitol Building sits at the top of the street, looking down on the festivities below, judging as you struggle to fix your belt.
3. James Madison Park
The park is a beach without the sand. It has basketball courts and open fields, all right on Lake Mendota.
Rent a kayak to explore the lake, and check out the beautiful neighborhoods on the other side. Head over to find people playing all kinds of sports, and join in without a problem.
4. Concert venues
Madison's becoming a hot destination for big-ticket performers. Bob Dylan, Kid Cudi and Dave Chappelle have all come through in the past few years.
The Orpheum is an architectural phenomenon that's survived three separate arson attempts; the Majestic Theater has been a show business staple in Madison for more than 100 years and the Frequency holds intimate rock shows and has an atmosphere like a Mifflin Street basement.
The Things
1. Good, old fashioned, Midwestern hospitality
There must be something in the corn. You'd expect a demographic raised on beer and brutal winters to be a crew of hard-knocks, but all you get are 6-foot-something farmhands recycling and holding doors open for beautiful women.
2. Sports
The pro teams are scattered throughout the state, but Madison has the wins.
By now, everyone from here to Mars has heard of Frank Kaminsky and the Badger basketball team.
Russell Wilson led the Badger football team to one of their three Rose Bowl appearances in the last five years, and he then proceeded to take home some hardware of his own in the NFL. And Badger hockey, in true Midwest form, remains a perennial national threat.
3. Arctic temperatures
The lowest temperature I've experienced in Madison is 20 degrees below zero. That's cold — really cold.
Wrapped up like an enchilada in 14 layers of anything you can find, you still feel the wind. The sunny side is it makes you appreciate the warm weather when it finally arrives. So, when spring comes and you're done making indecent snowmen, everyone will be ready to have some fun in the sun.