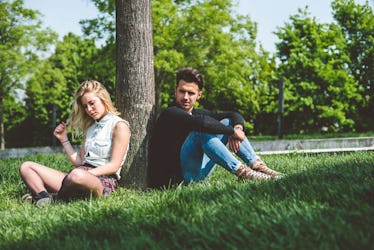 The 13 Best College Parties In America You Must Go To Before You Graduate
All major universities have that one day every year where the campus unites to rage their tits off. These notorious holidays are well known through the university as well as the country.
This is the ideal weekend you choose to visit your high school friends, as a good time is more than guaranteed. Without further ado, here are the 13 best college parties in the country:
Penn State: State Patty's Day
This student led holiday is a day that every college student in the country is well aware of. This celebration started on Friday March 2, 2007 because Saint Patrick's Day fell over Spring Break. State Patty's day brings in alcoholics from all different colleges with one main goal: to black out and to f*ck sh*t up.
"State Patty's Day made its debut in early 2007 after a handful of students realized that the school's spring break would conflict with St. Patrick's Day. Utilizing Facebook, they created a group entitled 'The Official Group to Move St. Patrick's Day.' Their hope was to unify the student body in early celebration. With an accumulation of over 4,600 members, along with an effort to get bars in downtown State College involved, the group was successful in moving the holiday to Friday March 2, a day that has been dubbed as State Patty's Day."
Michigan: Hash Bash
Every April, hippies, students and Ann Arborites unite under protest to legalize marijuana in what is known as "Hash Bash." This is the day to whip out your blunts, bongs and brownies and enjoy a full-on smoke sesh right in front of the cops. Talk about empowerment.
Vanderbilt: Rites Of Spring
This is a weekend long music festival that takes place every spring on Alumni Lawn. Friday and Saturday are filled with a variety of different bands with an epic headliner closing it down Saturday evening. T.I., The Flaming Lips, Wiz Khalifa and Drake are some examples of artists who have performed at this event. Nashville has a pretty big indie music scene, so it caters more towards this genre rather than pop and EDM.
Indiana University: Little 5
What is it? An annual bicycle race held on the campus of Indiana University in Bloomington, IN. What it means to students? The world's greatest college weekend. This is an incredible experience and a great excuse to visit your friends at college. This is a great end of the year trip to take with your friends before leaving for summer break.
University Of Pennsylvania: Spring Fling
The largest college party on the East Coast is UPenn's Spring Fling. Hosted by the university's Social Planning and Events Committee, this event takes place on the Friday of the second to last week of the semester, continuing until Saturday night. Blacked out students flee to the Quad to engage in absurd, reckless behavior all throughout the night. The most recent headlining artists of this event were Tiësto, Passion Pit, Tyga and Girl Talk.
Wisconsin: Halloween
The majority of college students are more than aware of the epic Halloween festivities in Madison, WI. This festival has seen crowds of up to as many as 100,000 participants. Much like the State Patty's events at PSU, local government and police officials seek to combat this holiday with increased police force for the weekend. Various artists head to the State Street Halloween Party to perform over the course of the holiday.
University Of Colorado, Boulder: 4/20 Smoke-Out
This campus wide event typically draws in 10,000-12,000 people annually who come together and smoke one big blunt. Not actually, but that would be pretty f*cking dope. With the legalization of weed, campus police have become extremely concerned with the events surrounding this "holiday."
The school has implemented a relatively new rule that has banned unauthorized campus visitors from visiting the campus on 4/20. Despite collective efforts, the students of this university embrace this day with endless smoke seshs.
University Of Tampa: Gaspirilla
This annual celebration is held in the city of Tampa, Florida towards the end of January. It celebrates the legend of mythical Spanish pirate captain Jose Gaspar. Although this event is not a school designated "holiday," it does not stop its students from fully immersing themselves in the party scene. Students that attend UT are invited to participate in the parade whether as part of the marching band or drill team.
University Of Buffalo: Oktoberfest
The Buffalo Oktoberfest is Western NY's largest celebration that brings in over 5,000 people to eat, drink and dance to German heritage and share in the spirit of gemutlichkeit. The main concourse will be turned into a beer garden where German-American musicians will provide the soundtrack to the night. Rock an appropriate costume and enter the event for free.
Tulane: Mardi Gras
Everyone is familiar with Mardi Gras, but few can experience it the way the students of Tulane can. This annual carnival celebration is held in the heart of New Orleans. Make sure to check out Bourbon street where you can see women whipping out their tatas to earn themselves a nice pair of beads. To the natives of New Orleans, Mardi Gras is typically referred to the Tuesday before lent.
Binghamton: Parade Day
Ah, the time of year where dark ales are handed out like mini-cups of water at a marathon, all along State Street, which is generously closed off to traffic -- providing a prime setting for bar hopping in broad daylight. It is as if it is the Greek equivalent of Christmas morning -- Binghamton students will wake up, tap the keg, and wait for their favorite sorority to arrive with fresh bagels. Getting drunk is not the goal, it's the standard, and many students will gauge their Parade Day's on how long it takes for their legs (and brains) to give out mid-crawl.
Cornell: Slope Day
This annual holiday occurs during the last day of undergraduate classes, which is typically the first Friday of May. This event occurs on Libe Slope right on campus. Unlike other college "holidays" Slope Day is encouraged and promoted by the Cornell University Student Assembly. This organization seeks to plan and to organize the social and recreational activities that occur on this day. There are always a variety of different musical acts performing on this glorious day. This has included Kendrick Lamar, Nelly, Drake and Neon Trees.
University Of Maryland: Preakness
Although this event does not take place on the actual campus of UMD, a ton of students attend this event at the conclusion of the school year. This is a huge free for all, filled with booze, music and people running around in cowboy hats. The main attraction of the event is the horse race, but the majority of college students simply chalk the experience up to another chance to black out with their friends.
Everyone is well aware of the Jappy culture that is ever present at 'Cuse. This is perhaps the best weekend to visit because none of the sorority girls are allowed to go out at night. #Winning. JK, we'll hand it to you guys for Mayfest.
Stayed tuned for volume II ...