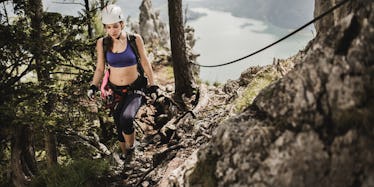 10 Ways To Balance Family Obligations During The Holidays
Stocksy
When the holiday season approaches each year, suddenly people are reaching out to you to jump in on "Secret Santa" grab bags, office parties, two Thanksgiving dinners and "Ugly Sweater" contests.
This is all supposed to be fun, right? But, most people have to find ways to make every person happy without hurting any feelings.
How many times has someone given you a guilt trip because you chose other plans? Well, it's time to stop feeling stressed out and start having a joyful experience.
Here are 10 ways to balance all of your family obligations during the holidays while still managing every other aspect of your life:
1. Be flexible with your time.
Sometimes, your family forgets you have a full-time job, night classes or even friends you like to see when they are in town. It's okay to show up late because you had to finish a project at work or leave early because you have to meet up with your friends for a gift exchange.
Everyone has a different schedule and different expectations when it comes to family obligations.
2. Don't cancel previous obligations because something better came along.
If your family invites you first and they have added you into their food calculations, it's rude to not show up because something comes along last minute that seems more entertaining.
Of course you'd rather meet up with old friends for some drinks — who wouldn't? But, stick with your first plan and find a way to meet up with them later or another night.
3. Remember, family traditions are meaningful and not supposed to be a burden.
You're exhausted and you've spent all of your money on gifts and eating out this month. Even though this is a good reason to become stressed out, you shouldn't confuse tradition with burden.
There's a holiday party every year for your mom's side of the family, and the location is an hour away. No one wants to drive for two hours in one night, but remember, it's just one night.
One night each year that your entire extended family makes the trek just to spend time together is worth it.
4. Rotate holidays with both sides of the family.
Nowadays, many families include divorced parents, stepbrothers and sisters, siblings from two marriages and, of course, the in-laws. You can't be everywhere at the same time; you are not Santa Claus.
But, you can try to switch up where you go for Thanksgiving, Christmas, New Year's Eve and everything in-between.
5. Don't be afraid to say no.
Family relationships can be complicated. You do not have to say yes to every invitation you receive. It's okay to say no because you have another family obligation.
You can make it up by sending a thoughtful card or gift, or by offering to get together on another day. You cannot make everyone happy all the time.
6. Have an open mind.
It's easy to have high expectations during the holidays. There's a Christmas movie marathon and many of the films showcase perfect families and happy endings.
Remember, you live in the real world, as does everyone else in your family. Don't expect miracles.
7. Take care of yourself and your health.
When you're running around during cold and flu season, your immune system can weaken you can get sick.
If you don't take care of yourself, you will miss many family gatherings or get others sick, as well.
8. Take control of the holidays -- don't let them control you.
Before the season begins, sit down and make a list of reasons why you partake in certain holiday traditions. Then, make a list of the reasons why you shouldn't.
Weigh the pros and cons, and make your own choices. Make plans and limits, and stick to them.
9. Don't do everything the same way just because it's how it has always been.
Change is good for everyone. What will happen if you decide to host a dinner at your house versus your grandma's, where it has been every year since before you were even born?
Sure, people may overreact or be offended, but if your intentions are good, they will hopefully understand.
10. Make the best of every gathering.
It can be the most wonderful time of year, but it's up to you to have a positive attitude. The holidays are only what you make of them.