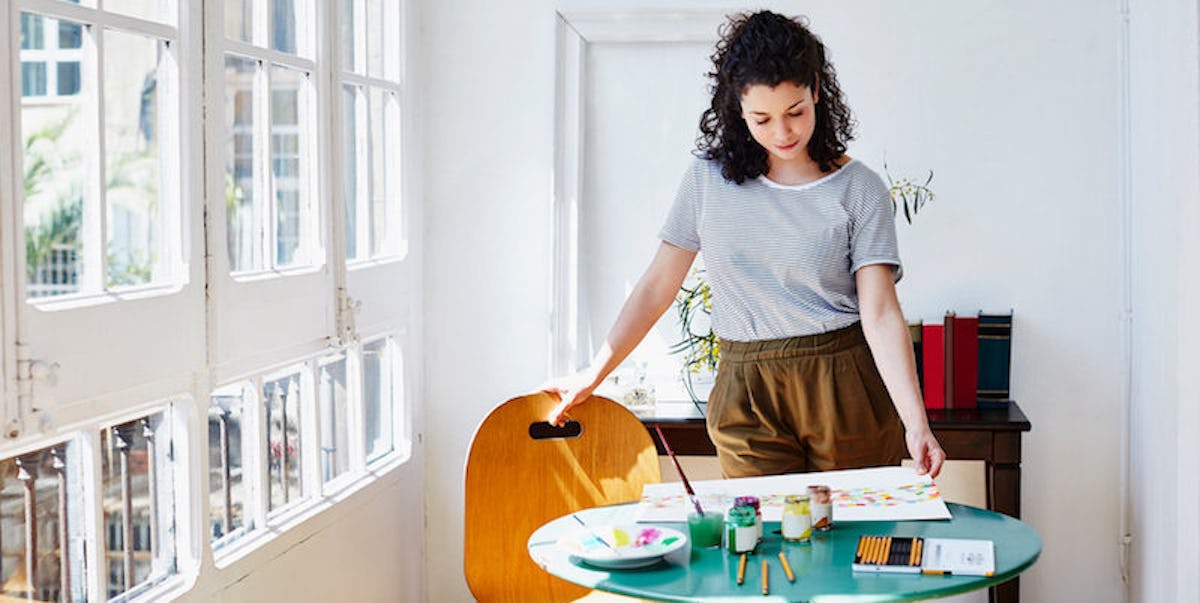 5 Reasons To Profit From Your Passion And Become A Creative Freelancer
Have you ever had that dream where you quit your job to work from home?
Or even better, the one where you work and travel at the same time? Say goodbye to the office life, and hello to being your own boss with your own rules on a quest to follow your passion.
Maybe your passion is writing, and you've been doing it for years. Maybe you make jewelry, paint or build websites. You've sold some stuff to your friends, and occasionally you get connected to a friend of a friend who wants to commission a piece of art. But you've never pursued the idea beyond the occasional moonlighting.
Need a change of scenery? Location-independent work can allow you to travel wherever your heart desires. Want to spend a few months in Brazil? All you need is a laptop and an Internet connection to find work and fulfill creative projects on the road.
Maybe now is the time to think about doing it for real. Never has there been a better time to explore your options as a freelancer in a creative field. If you don't want to leave your job, but want to make some extra dough on the side, you can go online and pick up a few freelance gigs.
Welcome to the micro-gig economy, where making money outside of the traditional work environment has never been easier. The internet has become a global marketplace, allowing people to find work on their terms. And creative freelancers are taking advantage by chasing after their dreams.
Here are five reasons you should follow suit:
Allowing People to Profit From Their Passions
You have a talent or skill you enjoy and would like to nurture, but you have a mortgage to pay. Having a job that pays the bills is often more important than having a job doing what you love, one that will let you indulge in your talent.
Hobbies are relegated to the free time you have at home, but what if that wasn't necessarily so? What if there were outlets that allowed you to sell your creations, that allowed you to get paid to hone your skills?
Whatever your skill or talent, there's most likely a website out there that will help you get in touch with someone who would be willing to pay you for your ability or creativity.
The Rise of Content Marketing
In case you haven't heard, "content is king." Creative professionals have probably seen that expression everywhere. While it was Bill Gates who originally said it, marketers around the world follow that slogan and use it as their battle cry when putting together their marketing strategies.
A lot of the components of a great content marketing strategy can be performed by freelancers. From writing articles and designing infographics, to producing videos and recording podcasts, a creative freelancer can positively impact a company's marketing campaign from anywhere in the world at a much smaller cost to the company.
There are many successful ways to go about content marketing, and a freelancer with the right experience can be extremely valuable to a company looking to branch out of their normal marketing routine and start thinking outside of the box.
Helping Creatives Expand Beyond Their Local Base
Not very long ago, you were limited to selling locally. Family, friends and word of mouth were the main sources of work. Maybe there were shows or opportunities to ply your wares at a market or festival. But if you wanted more work, you had to get out there and find it, or you had to move to where the action was. While that is still important, it is no longer essential.
The Internet has made it easier to communicate and collaborate across vast distances. Doing work for someone on the other side of the globe while sitting in your pajamas at home is a common occurrence these days.
Skype meetings with nice shirts and no pants happen all the time, and are a welcome change to those averse to wearing suits and dressing up. There will never be a shortage of people willing to pay for services, and now it is easier to find them on a global scale.
Save Money, Time and Resources
More and more companies are offering employees the opportunity to telecommute because it saves the company money. They don't need the office space, or the electricity to power it.
This is also an economic boost for the employee. Driving to work every day requires a car, insurance, gas and most importantly, time. Public transportation may cost less, but it can often take up even more time. The hours could be spent pursuing more meaningful things than yelling at the person in the car in front of you, or pushing your way through crowds to make it to the bus in time.
The same benefits are there for the freelancer, as well. Making or supplementing your income with online sources also helps you save money in other places. There's less money spent on advertising and mailers, less time and gas spent on meetings and sales calls and more time spent in your office/studio working.
Location Independence
The very notion of leaving your job behind to hit the road can leave you shaking with excitement. Just think of the many travel bloggers who have been able to make a career out of their escapades around the world. Sounds too good to be true, right? Nope.
It is possible. It will just take an incredible amount of time and determination to make this dream a reality. Travel bloggers may seem like they're living the life if you follow them on Facebook, but the fact of the matter is they work their tails off to produce quality content while growing their sites and businesses.
And in the beginning, there are no free press trips or sponsorships. All of those hours and trips were bankrolled by the actual blogger on a quest to make their dreams come true. A lot of aspiring bloggers give up after realizing it isn't all fun and games (and travel). It takes work and persistence that most people don't even think to realize.
But travel blogging isn't the only option. As Internet connections improve in remote places, travelers are able to live a more location-independent lifestyle. This means they are able to connect to companies and sites from wherever they have Wi-Fi to complete tasks and micro-gigs.
One of the best ways to achieve this independence is through freelance work. The more gigs you complete, the stronger your portfolio becomes. By doing this, you will be able to lock down work from anywhere you desire, be it from the comfort of your home office or your hostel in Denmark.
Where To Start
Your journey must begin somewhere. Luckily for you, there are plenty of places to get started. While you might have to take a brief pay cut to get work and build a reputation, establishing yourself early on can pay off in a big way in the long run. And if you aren't ready to drop your full-time job just yet, moonlight in the meantime and gain experience while expanding your creative portfolio.
There are many sites out there looking to bring creatives and those who wish to procure their services together. Some places offer a variety of services. Sites like Bunny Inc., Upwork and Fiverr cover a broad range of professional freelance services, from dubbing services to coders, programmers and logo designers.
Other sites offer jobs for specific areas like content creation and professional voice over work. There are also places to sell your handmade items. If you make jewelry or other small, handmade items, Etsy and Bonanza are great places to showcase and sell your creations.
You'll never know what is available until you decide to take the first step. Carve out a few hours in your schedule to explore what's out there, and how you can take advantage of using your creative mind.
The worst thing that could happen is you'll make some extra money. The best thing that can happen? You can change your life forever by doing what you want. Those are some fantastic odds.