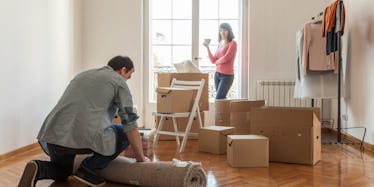 These 7 Inexpensive Storage Hacks Make Your Tiny Apartment Feel Like A Palace
If you're living in a small apartment, you're well-aware how storage can be a huge issue. Even if you've done away with every unnecessary item you own, you'll still find yourself craving more space.
Of course, it's actually easy to optimize your available living space with these ingenious space-saving storage ideas.
1. Get furniture that plays double roles.
Instead of a plain couch or a coffee table, buy one which doubles as a storage unit as well. There are a number of stunning furniture options available which make use of the hollow space inside to add storage options.
You can also build a cabinet under your sink to store cleaning supplies -- plus it hides the ugly pipes.
2. Build sneaky shelves.
Instead of a simple full-length mirror, build a hidden dresser with shelves to store all your cosmetics and jewelry behind it. You can customize the size of your shelves for storing different kinds of makeup and other items of different sizes.
You can also add small rods for your bangles, hooks for necklaces and so on. This not only adds enormous storage space, but it also ensures all your makeup, hair ties and trinkets are together in a designated place so you never lose them again.
3. Buy independent storage units.
Buy cheap storage units to fit in large bins to stash your laundry, bedding, shoes and more under your beds or in any other empty space you find.
You can also buy smaller shelves to act as shelf dividers for your kitchen. Buying a whole new cupboard will only reduce floor space, so it's a good idea to use these units to open up more space.
4. Use every bit of room you have.
If you have an awkward narrow strip between two pillars or on top of a cupboard, convert that into storage space by building shelves or simply stacking cheap storage units.
These are excellent, as they add a huge amount of extra space for storing things that would otherwise cause clutter.
You can also add hooks to hang your utensils in these spaces.
5. Consider vertical storage space.
Use the space behind your doors and curtains to add a fairly large amount of extra space. Fix a couple of magazine holders to the back of your door to hold spare items you use often, like an umbrella.
Alternatively, nail in a few hooks or a few curtain rods to hang your clothes, jackets, scarves and shoes. You can also stick on some pockets to your shower curtains to create a useful caddy to hold all your bath products.
6. Buy tension rods.
Add a few tension rods here and there to store anything that can be hung. You can use them to hang cleaners with spray bottles and even garbage bags! Add hooks to cleaning supplies like brooms and dustpans to hang them on these rods as well.
Not only are they useful for your cleaning supplies, you can also use tension rods to store your heels -- plus, this keeps the bottoms of the heels from getting ruined from the friction of the floor.
7. Magnetic strips are your friend.
Save drawer space by incorporating magnetic strips into your kitchen or dressing room. Storing your knives on a magnetic strip not only saves drawer space, but also helps you find the right knife with more ease and in less time!
Not only that, it's also safer, as the chances of cutting yourself while rummaging through a drawer are much higher. With them being visible and properly spaced on the strip, you can get a knife easily without hurting yourself.
You can also attach one in your dressing room to store bobby pins and tweezers. These strips save drawer space, but they also help you find things so much faster.
With these sneaky storage options, you can declutter your house and maximize the space you have!