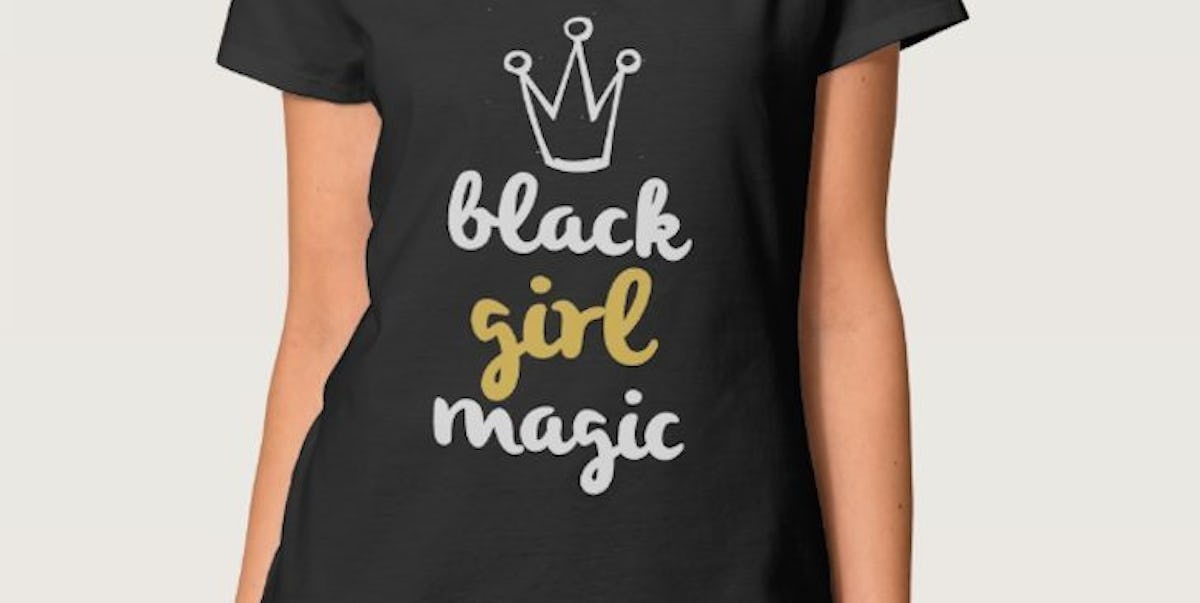 This Company Seriously Used White Models To Sell "Black Girl Magic" T-Shirts
Zazzle
No, this is not some satirical episode of Dear White People. Online retailer, Zazzle, seriously used white models to sell "Black Girl Magic" T-shirts on their website, among other items clearly created to celebrate women of color. The photos are, for sure, eyebrow raising.
The T-shirt literally read like an incredibly blatant form of cultural appropriation, which has become a sad mainstay in pop culture.
Elite Daily reached out to Zazzle representatives about the shirts and they provided the following statement:
Just so you are aware, Zazzle is largely a community of designers and makers – individual members who have opened Zazzle accounts to promote and sell their designs and products. We are an open user-generated content marketplace where designers and users can freely upload any design as long as it complies with the terms of our User Agreement. Our designers and customers have a diverse set of views and convictions; we provide a digital platform where they can upload a wide variety of products, whether they are satirical, funny, whimsical, political so long as they observe the aforementioned guidelines. In the case of 'Black Girl Magic' t-shirts on the Zazzle website, each designer is shown a series of pre-posed randomized model shots upon which their design is placed. It's always possible that gender, race and other attributes of the model do not match up to the specifics of the design, given the ratio of our millions of designs to the 100 or so t-shirt styles we offer. At Zazzle, we're committed to diversity and are working on increasing the diversity of the pre-posed model shots and the t-shirt range itself.
Check out the T-shirts for yourself:
"Black girl magic" minus the black girls?
It happened in real life.
There are also more T-shirts clearly meant for black people, but worn by white models.
Twitter users pointed out the obvious exclusion.
People seemed less offended and actually more confused about how such a direct term like "Black Girl Magic" could ever be mistakenly put on all-white models.
Here's how this melanin-deficient faux pas happened:
Basically, users of the website can custom design their own items and the designs pop up on a generic stock photo. The "Black Girl Magic" T-shirts are not purposefully put on white models.
So that solves the mystery, but it does not solve the problem totally.
This is the full selection of stock photos available on Zazzle's "Custom T-Shirts & Shirts" page:
There seems to be three black models for the children's T-shirts, one for adult men's shirts, and none for the adult women's shirts.
Although the T-shirt designs automatically are pasted to stock photos of models, we still need to be questioning why Zazzle does not have any black female models for adult T-shirt sizes. You know, because there are black women in the world who need representation. It sucks that they were not included, but the good news is that Zazzle representatives have confirmed that they are working to change that soon with a more diverse selection of models. According to the above statement, "At Zazzle, we're committed to diversity and are working on increasing the diversity of the pre-posed model shots and the t-shirt range itself."
This, folks, is yet another reminder that inclusion matters so very much. Otherwise, you get situations like this when a company has to explain why a blonde white woman is wearing a "Strong Black Woman" shirt. And that totally doesn't sound like anybody's brand of fun.