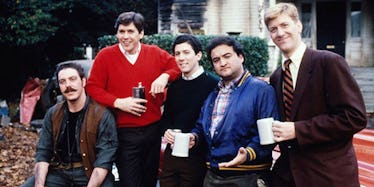 5 Easy Side Hustles That Can Get College Students More Beer Money
Universal Studios
One of the constant struggles for full-time college students is finding enough money to have a little fun on the weekends.
While the common response from parents and people who are far removed from the college lifestyle is something along the lines of "Get a job," the truth is, schedules don't always allow for that.
Between 15 and 20 hours of class, another 10 to 15 hours of homework, reading and studying and other personal obligations, there's very little time left to secure a steady, consistent job.
Picking up five or six hours of work at a local business may sound ideal, but most managers aren't interested in hiring someone with little time and flexibility.
The good news is, you don't have to find a traditional job to earn a little spending money for the weekend.
We live in an internet-based economy that gives anyone with a little creativity the opportunity to thrive. What are you waiting for?
If you tuned into ESPN's College GameDay show on Saturday, September 10, you probably noticed a simple white sign with black lettering that read, "Hi Mom! Send Beer Money," with the student's Venmo ID scripted at the bottom. Funny, right?
Well, Sam Crowder (the man holding the sign) is still laughing.
After the sign got some repeated airtime throughout the three-hour live show, Crowder began to see some money trickle in – a dollar here, five dollars there and even some larger donations.
By the time it was all said and done, more than 3,000 people contributed to his "beer fund."
While people will no doubt try to replicate Crowder's success in the coming weeks, we're not suggesting you do the same. This was a one-time deal that will quickly fizzle out.
However, we're mentioning this story to remind you there are infinite ways to make money online.
You're probably not going to buy a house with an internet side hustle, but some consistent beer money is certainly a possibility.
Here are five side hustles any college student can do to collect a little extra cash:
1. Sell old textbooks.
If you're hanging on to old textbooks, giving them to friends or throwing them away at the end of the semester, then you're missing out on a big opportunity to score a little cash.
As you know, textbooks are expensive. You can easily spend hundreds of dollars on books each semester, but you can also get a hefty percentage back by reselling them.
While your school probably offers a buyback program at the campus bookstore, you aren't going to get much money there.
Your best bet is to use Amazon. They have an online buyback tool that lets you enter the ISBN, print shipping labels and mail books in.
Depending on the books you have, you could make a couple hundred dollars. Not bad!
2. Start a blog.
While you can get a quick burst of cash from selling textbooks, this is something you can only do once a semester. If you want steady cash flow, you'll need to set up a long-term strategy.
It'll take a lot of work, but launching a blog can be exactly what you're looking for.
As leading internet marketer Neil Patel says, "A blog can serve as the foundation for just about anything you want – a personal brand, an enterprise level business, a multi-million dollar content provider or a startup."
Best of all, you can continue to grow your blog over the years and it may even turn into a full-time job after graduation.
3. Monetize a skill.
The gig economy is in full swing, and there are tons of different sites that allow individuals to monetize different skills. Some of the top micro-selling platforms include Etsy, Fiverr and Upwork.
On these sites, all you have to do is set up a profile and start marketing your value offering. Common services include photography, web design, writing, SEO, handcrafted goods, video production and more.
The great thing about using these sites is you can set your rates and accept or decline work as you please. There's a lot of competition in most niches, but with a little effort and a willingness to work your way up, you can stand out.
4. Sell shoelaces.
This may sound totally random, but billionaire Mark Cuban swears that any student can make more than minimum wage by selling shoelaces.
"I guarantee you that if you go to the parking lot of any high school or college football game with a bunch of shoelaces in team colors that you bought for two bucks a pop, and put up a sign and two chairs, you can make money," Cuban writes on his blog.
He continues, "Go to wherever there are people in your community. Flea Market. Basketball Game. Dance recital. Wherever people who go to your school show up, you show up."
5. Find campus rep opportunities.
Here's perhaps the easiest and most effortless strategy of all: Find online clothing companies with Millennial customers and ask them about campus representative opportunities.
A campus rep is simply someone who wears branded clothing around campus and vouches for the company. The brand sends you free apparel, you wear it and everyone is happy.
While free clothing may be the only thing you get, some may offer you a monthly stipend. Better yet, if you establish a solid reputation with the company, a job might be waiting for you after graduation.
The life of a college student is fun, but it's also very busy.
Between classroom time, homework, group projects, personal obligations and getting a few hours of shut-eye at night, there isn't much left over for a formal job.
Thankfully, though, the internet makes side hustling convenient and easier than ever before.
Give some of these suggestions a try, and see if you can put a little change in your pockets.