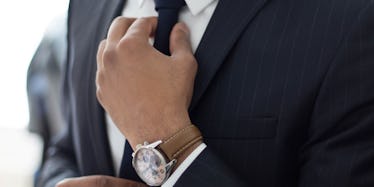 10 Best Gift Ideas To Get Dad For Father's Day If You're Broke
When your dad has supported you endlessly, it's understandable you'd want to give him the whole world in return.
Two days a year, it's exclusively about celebrating Dad. His birthday and... you guessed it: Father's Day.
Unfortunately, not a lot us are lucky enough to be financially stable enough to drop some heavy cash on Dad, no matter how much we want to spoil him.
If you're still in need of a great gift for Dad, these ideas are the perfect way to make him smile without seriously injuring your wallet.
1. A Key Finder
Tile Mate Key Finder, $25, Amazon
This gift was seriously made for the dad who always seems to be losing something. With this awesome gadget, Dad will be on top of where his keys are at all times.
2. Stainless Steel Tumbler
YETI Rambler Stainless Steel Tumbler, $22, Amazon
Dad won't have to worry about his coffee staying warm or his water staying ice cold ever again. The YETI boasts keeping "your drink as cold (or hot) as science allows."
3. A Portable Electronics Stand
AmazonBasics Multi-Angle Portable Stand, $9, Amazon
With this cool stand, Dad can watch his TV shows or read his favorite book on the go without straining his neck at an uncomfortable angle.
4. Personalized Grilling Planks
Personal Grilling Planks, $15, Amazon
A personalized gift like this is guaranteed to make any dad who grills all summer long smile in delight.
5. A Training Shirt
Adidas Men's Ultimate Short Sleeve Training Tee, $17-$22, Amazon
If your dad loves to go biking or hits the gym often, he'll definitely appreciate a new shirt for his exercise.
6. A Crazy Pair Of Socks
Bugatchi Men's Fashion Socks, $20, Amazon
If your dad has an awesome sense of humor, he'll enjoy a pair of fun socks that match his personality.
7. A Luggage Tag
Jack Spade Men's Striped Dipped Luggage Tag, $38, Amazon
What's better than this luggage tag for the dad who has a passion for travel?
8. A New Tie
Tommy Hilfiger Men's Dot Print Tie, $46, Amazon
Keep Dad looking sharp and fly by giving him a tie picked out by your fine taste.
9. A Robot Tea Infuser
Kikkerland Robot Tea Infuser and Drip Tray, $10, Amazon
This infuser is a great option for all the tea-drinking dads out there.
10. A Bamboo Computer Mouse
Horsebiz Bamboo Wireless Mouse, $18, Amazon
This mouse adds a unique flair to Dad's home office and boasts sweat-resistant properties.