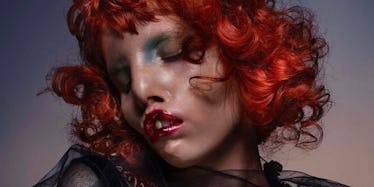 Model With 'Cat Eye Syndrome' Defies Beauty Standards In New Photo Shoot
Nick Knight/Instagram
Caitin Stickels, a 29-year old model based in Seattle, has finally begun living her childhood dream of modeling in the fashion industry with a shoot for V Magazine shot by famous photographer, Nick Knight.
According to Cosmopolitan, Stickels was born with Schmid-Fraccaro syndrome (also called cat eye syndrome).
The chromosomal condition causes various issues,  including a downward turn of the eyes and an absence of tissue in the pupils which creates a cat-like look.
Rather than letting cat eye syndrome kill her modeling dreams, Stickels has used it as her strength.
The model, who affectionately named herself Caitin Kitten on Instagram, embraces her unique face and body—frequently modeling for artistic shoots and posting them on Instagram for more than 30,000 fans.
Nick Knight, who also directed videos for celebrities like Bjork, Lady Gaga and Kanye West, invited Stickels to join him in London and shoot the spread after following her work on social media.
In an accompanying essay, Stickels wrote,
My heart is eternally fluttering. Working with Nick Knight at SHOWstudio for V Magazine was something I couldn't have even dreamed of, to be perfectly honest. I always admired brilliant artists with miraculously creative minds, especially in the fashion industry where being human isn't often expected to be accepted or displayed in an artistic way.
Caitin Stickels' spread is one more step toward inclusivity in the fashion industry.
The fashion industry is known as much for how it upholds limiting standards of beauty as it is for starting new trends. In the last few years, representation for people who aren't the typical size 0 has been growing.
Jack Eyers, the world's first male amputee model, strutted in 2015's New York Fashion Week (NYFW) for FTL MODA. The show also featured models who use wheelchairs and polio walking sticks.
In 2016, Beyoncé hired Jillian Mercado, a model with muscular dystrophy, to be one of the faces for her new online merchandise campaign. Mercado was also featured in a 2014 Diesel campaign.
Caitin Stickels joins a growing list of models who prove that being human is the only qualification for beauty and value.