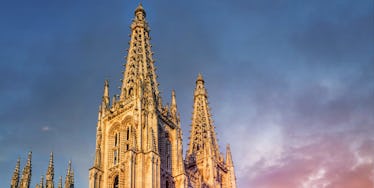 Why The Camino De Santiago Is The Best Getaway For Getting Over An Ex
Getty Images
Breakups are part of the joys of life and growing up. A breakup is life's way of telling us the person we're with isn't the one we're supposed to be with. It just isn't going to work out.
Regardless, they aren't fun, and they can consume every aspect of your life, from your thoughts to how you choose to live your life. When I broke up with my girlfriend, I entered the typical "post-break-up lifestyle." I partied more in the weeks after my breakup than I ever had before.
I drank nearly as much as my own body weight, and I took on habits that I'm sure would give Eminem and 50 Cent a run for their money. I was suddenly taking on a carefree approach to life.
It wasn't until after I found myself hitting rock bottom that I began to realize I was losing myself. I had spiraled into something I never thought I would find myself in. I had lost sight of myself, who I was, who I wanted to be and what I should be doing.
Enter Spain. Rather, enter the Camino de Santiago, a walking pilgrimage of nearly 560 miles, ending in Santiago.
I never thought I could picture myself walking all those miles, let along walking at all for a vacation. Yet, this is where I found myself.
It was an odd feeling. Many of my friends would have opted for an all-inclusive vacation at some resort down south, or possibly backpacking and bar-hopping through Europe. I chose the more down-to-earth and personal approach.
After a breakup, you begin to lose sight of things yourself. Things that had beauty no longer do. The simple pleasures are no longer simple or pleasurable.
The Camino de Santiago is an ancient path that, over the years, has become a journey to enlightenment. For me, this was the ultimate post-break-up trip. At each city stop, you are graced with simple elegance and nature. Along the route, I found myself relearning how to enjoy nature, and how to appreciate simplicity.
I had my heart broken. A breakup had rocked me to my core. I was lost, confused and filled with questions.
Along the journey to Santiago — even though I was left to follow painted shells and arrows on rocks and trees, and leave my comfort zone — I found I was more at peace. I found that, rather than enjoying the luxuries of traveling, I found myself enjoying the bareback simplicities of roughing it and rediscovering my independence.
When you're in a relationship, you sometimes find yourself almost instinctively relying on the other person for everything, from comfort and decision-making to even entertainment. Then again, this person was your better half.
After a breakup, that better half who completes you is gone. You are left to try to regain some balance.
I was so grateful for this amazing and rare opportunity to simplify and get back to the basics. The Camino de Santiago is a journey that helps you regain yourself after a life-altering event (like a breakup).
When I disembarked the plane alone, I knew everything that would unfold next would be entirely up to me. This would be the fastest route to remembering I don't need anyone but myself.
On this journey, not only are you forced to fend for yourself, but you are also forced to focus on getting from point A to point B. Seeing as it's a journey done solely on foot, your baggage depends on your decisions.
The heavier your bag, the harder your journey. So, on this path to Santiago, you learn that some things aren't worth holding on to anymore.
You learn that the things weighing us down are also the things holding us back. The solution? Let go.
I could have chosen pink, sandy beaches and piña coladas, or I could have picked visiting museums throughout England. But, I chose a trip where I could learn to find myself. I needed to find some balance in my life.
A relationship ends, and you may not know who you are because of that loss. Therefore, it is all the more important to do something for yourself to show your strength and courage.
Travel is the best way to do this. More importantly, you need to find a trip that takes you out of your comfort zone and forces you to see yourself in a different light. It'll be the best trip you'll ever take, and it'll lead you to a path of great enlightenment.