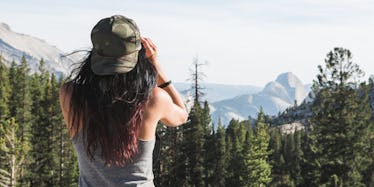 California Dreamin': How An East Coaster Found Solace In The Sierras
You may have thought Katy Perry summed it all up in her music video bouncing around with cupcakes on her boobs, or that the Beach Boys hit the nail on the head with their classic "California Girls."
Even Adele mentions the phrase "California dreaming" in her newest hit, "Hello" (which I can't seem to get out of my head. Thanks, Adele, you beautiful, majestic songstress of the night.)
When many East Coasters picture California, they visualize scenes of tall palm trees dancing in the Pacific coast breeze, brand name-clad celebrities dodging paparazzi along Rodeo Drive and sun-kissed surfer boys that only say, "Gnarly, dude."
I'll admit, I may have had some of my own expectations of The Golden State before I finally got the opportunity to explore it myself.
Lucky for me, my views were completely altered way beyond my personal image of what California was made out to be.
The lights, the cameras and the stars were not a part of my journey.
And perhaps, that is why my new take on California holds a better meaning.
This previous summer, I explored California's true beauty on a backpacking, camping and hiking trip with my high school's adventure club.
As a relatively non-athletic girl, I originally laughed at picturing myself with a 40-pound pack strapped to my back, hiking on a six-mile route through the wilderness of California.
But, I did it with lots of laughter, sweat and pee breaks behind trees.
My California exploration began in the Sierra National Forest at Bowler Campground.
There was literally one other group camping at the campground during our brief stay there, so we were pretty isolated.
There was no cell phone service, Internet or television.
That was the best part: tuning everything out and feeling alone amongst the forest.
In the Sierra National Forest, we had the opportunity to go rock climbing with two Southern Yosemite Mountain Guides, who we hired for that portion of the trip.
We lucked out with two of the coolest guides in the company, Alex and Katie.
I had climbed in rock gyms before, but nothing was as surreal as being alone on a huge rock with only a rope and the belayer below keeping me on the wall.
After strategically climbing to the top of The Turtle rock, the Sierra Mountains were snowcapped and sparkling far out left in the distance.
From that height, our guides were able to point out where the Pacific Crest Trail (think of Reese Witherspoon in "Wild") and the famous John Muir trail in the distance.
At this point in the trip, I already felt mesmerized by California's authentic beauty.
I was then able to test out my athletic abilities (or lack there of) as our journey continued into the Ansel Adams Wilderness area.
In order to arrive at our campsite, we needed to backpack six miles on the Fernandez Trail.
To prep for this trip, I backpacked my neighborhood with my mom.
Turns out, I could have used just a bit more training.
The hike into Ansel Adams was definitely the most challenging thing I have ever done.
With 40 pounds resting on our backs and hips, the California sun beating down on us, loose rocks under our hiking boots and steep inclines glaring at us ahead, every drop of sweat felt worth it.
Ansel Adams is by far the most beautiful sight I saw on my journey.
If anyone is going through a mid-life crisis or dying to escape from civilization, I would recommend he or she hike in to Ansel Adams.
The mountains, trees and lakes almost seem sacred because of the isolation and lack of civilization.
For that, it is a special place.
Although the temperature dropped at night, and we often found ourselves in winter coats in the middle of June, this location will always be my favorite part of California.
Once here, we hiked to the Madera Peak, 10,500 feet in elevation, and ate lunch from the top while looking down on all of the tiny, thumb-print sized lakes below and the Yosemite mountains in the distance.
On our way to Yosemite, we decided to take a minor pit stop at the Rainbow Pool swimming hole.
As if my California adventure could not get any better, it was here we did something purely spontaneous: cliff jump.
Although I will admit to being extremely nervous before my feet left the cliff, it was one of the most thrilling and incredible moments during the trip. (My Instagram picture was pretty cool, too.)
After checking that off the bucket list, we continued on to explore Big Sur and the California beaches.
We left California's beautiful forests behind us and entered the Pacific coast.
It was during this portion of the adventure that I saw some of the most amazing sunsets I have ever seen at Pebble Beach in Carmel (which you probably recognize because of its world-famous, extravagant golf course), and Pfeiffer Beach in Big Sur.
To think that I was satisfied with the Jersey Shore beaches before stepping foot on the Cali beaches is pretty much a joke.
My journey through California came to an end at the inspiring, isolated and special desert of Joshua Tree.
It was here that we camped without our tents, just on our sleeping bags under the bright stars.
Even though I tried not to freak out about potential rattlesnakes creeping into my sleeping bag, it was still a favored memory of the trip.
We woke up that morning around 4 am to watch the sunrise in the desert.
There is just something about the cacti and Joshua trees that cover the desert as far as the eye can see that is so enlightening.
It opened my eyes up to how incredible our world truly is, and how much we forget exists beyond our hometowns.
It's a shame that California is clichéd and often stereotyped to be a certain way amongst the stardom and fame, and that the state's true beauty is often overlooked.
Before my California adventure, I never really knew what to expect out of California's wilderness.
My world has now been opened up to some of the most beautiful and special places I had the opportunity to experience.
I implore everyone (especially East Coasters who don't really have an affinity for the West) to experience and connect with California's authentic beauty, instead of taking selfies in front of the Hollywood sign or window shopping at Louis Vuitton on Rodeo Drive.
You may end up California dreaming.