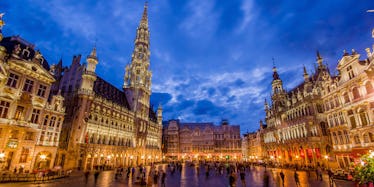 6 Things About Brussels That Make It An Amazing Place To Visit
Shutterstock
Two years ago, I spent three months working in Rome and traveling around Europe while I was there. I was fortunate enough to spend time in Brussels, and it didn't take me long to fall in love. Between the outstanding nightlife, the best food you'll ever taste and the to-die-for beer, what's not to love?
When I left Brussels, I knew I was leaving a piece of my heart behind. I've traveled to many places around the world, but I'd always recommend a trip to Brussels.
No matter who you are or what you're looking for, Brussels has something to offer. If you want the true European experience, it really is the place to be. Here are six reasons why the capital of Belgium should make your bucket list:
1. The Beer
Let's get the obvious reason out of the way. Brussels is known for hundreds of varieties of craft beer. I'll be honest, even as an American living in the southern United States with a preference for Bud Light, I've never tried a beer I didn't love in Brussels. Several Belgian beers are served in their own specialty glasses reserved for that type of beer alone and Trappist Monks are known for brewing several of the popular beer varieties.
In the heart of Brussels, Délirium Café serves thousands of exceptional beers and is a popular nightlife location. They even won a record in the Guinness World Records for having the most varieties of beer commercially available anywhere in the world. To be honest, this café alone would make Brussels worth the visit. But, you won't turn your head without finding a fabulous beer bar.
2. The Food
If you haven't had mussels in Brussels, you're missing out. And if you haven't bought frites in a paper cone from a street vendor or tasted the perfection that is a Belgian waffle straight from the source, have you even lived? Brits might claim the frites, but Belgians know how to do them right. The rest of the world might claim to love Godiva chocolate, but until you've had chocolate dipped strawberries from the first Godiva shop on the cobblestone streets of the Grand Place, you won't even know how good chocolate can be.
In Belgium, they don't use vegetable shortening in their chocolate and the pureness of the cocoa truly must be tasted to be believed. Let me put it to you this way: I lived in Italy for three months and I dreaded having to leave Brussels and its food behind to return to Rome.
3. The Architecture
You can hardly have a conversation about Brussels without mentioning the beauty of the architecture. Brussels is famous for being the place where Art Nouveau originated, and you couldn't possibly miss examples of the style all over the city. If you're into architecture, you'll be happy to walk the streets where the work of people like Victor Horta and Henry van de Velde comes to life.
You'll see several UNESCO World Heritage Sites and structures all over the city, including the magnificent Grand Place. Proceed with caution, though. You probably won't ever want to leave.
4. The Ease of Travel
Aside from the relatively inexpensive airfare to and from Brussels, a visit to the city will cost you significantly less than Rome or Paris because the destination isn't nearly as popular (or riddled with annoying tourists). I paid $12 for a Big Mac in Zurich; you won't have that problem in Belgium.
Also, the city's close proximity to other European cities makes it a great central location for a European visit. You can easily catch a high-speed train to Amsterdam, Paris, Venice, London or nearly any other place you wish to go for a significantly lower price and shorter ride than a trip from a comparable European city.
5. The Culture
If you want to mingle with European locals, Brussels is the place to go. Don't worry if you don't speak a word of Dutch or French, you won't have any trouble making friends in Brussels and you won't find any shortage of languages spoken by the locals.
Even if you can't communicate with someone to the fullest extent, you'll always find a Brussels local down to party. Remember the Délirium Café I mentioned earlier? You can start there. Seriously, the people are the best.
Whether you're looking to have a good time, for fashion know-how or a history lesson, you're bound to adore the culture. The people do their nightlife right, have a deep understanding of style and there's no shortage of historical sites to pique your interest.
If you can manage to see the Manneken Pis through the crowds of people inevitably taking selfies in front of it, it offers great insight into the historical culture and resiliency of the Belgian people. Besides, who wants to miss the statue of the little peeing boy?
6. The European Experience
Possibly the best thing about Brussels is that no one is truly a foreigner. Brussels is the hub of the European Union. You'll meet people from all over the world and you'll discover a plethora of "foreign" attractions, restaurants and shops. You want Italian shoes? Done. French food? Check.
You may struggle more in Brussels than in other hot spot European locations to find fluent English speakers off the beaten path, but you won't feel like a tourist. You'll develop a quick sense of multicultural understanding, and the Brussels way of life will certainly make you feel at home.