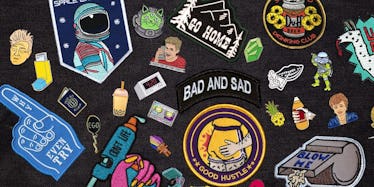 Brat Box Is The Pin And Patch Subscription Box For Your Inner Punk
Bratbox
You could say I'm a little bit into patches.
And enamel pins:
In fact, I have so many enamel pins that I could never possibly wear them all and have started working on a DIY project to display them as art. I have to keep buying more and more denim vests and jackets to display all my patches.
And I'm not the only one who's obsessed with the 90s/punk vibes of a patch-and-pin lifestyle. There's a thriving enamel pin and iron-on patch community on Etsy and Instagram, where tags like #pingame, #pinlife and #patchlife accompany posts on accounts entirely dedicated to surfacing the best new stuff from the pin and patch world.
Most of these are designed and sold by independent artists, so pinning and patching not only looks cool, it's a great way to support small businesses and artists. Which is why I immediately threw my money at Brat Box, the newest subscription club specifically for patches and pins.
The brand new curated box comes in three subscription types -- Rascal (one pin a month), Punk (two pins, or a pin and a patch) or Brat (three pins, or two pins and a patch, plus surprises) ranging from 13 to 25 dollars a month. Each month, Bra Bbox texts you a selection of themes (mine for this month were Adventure, Space and Bad Vibes) to choose from, and then they collaborate with independent artists to curate your pin and patch selection.
The coolest thing about pins and patches (besides how cool they make you look) is that they allow artists, designers, tattoo artists, etc. to mass produce and sell their art at an affordable rate over the Internet. Some of the involved artists are already some of my favorites, like Danny Brito, BlackDressWildHeart and LaserKitten, so I expect to be more satisfied with my monthly pin and patch haul than another beauty sample I'll probably never use.
Just be careful if you decide to join -- this sh*t is more addictive (and cheaper) than tattoos.