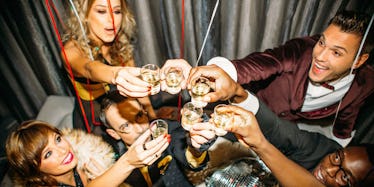 5 Things You Need To Throw The Booziest, Classiest Cocktail Party
It's not easy to achieve the reputation of the eccentric party host, but there's real satisfaction in knowing you throw the most sophisticated, eagerly-anticipated parties of all your friends. 
From becoming a DJ aficionado to a cocktail connoisseur, bring class into the equation with this quick guide on how to boost your basic hostessing skills.
Here are five tips for hosting a top-notch cocktail party:
1. Music
Your party soundtrack should be slow to begin with, picking up the pace only when everyone has a drink in his or her hand and the last guests have started to arrive.
If you're bored of Nicki Minaj and The Black Eyed Peas, you might consider other musical genres to set the mood.
Will there be dancing, or is the emphasis on conversation?
Ambient and electronic music will set the tone for a stylish and more relaxed evening. (Think Air, Groove Armada and Morcheeba.)
Jazz or motown are good choices for something smooth, yet upbeat. If you're indecisive, choose a few hits from various genres from each decade since the '40s (or earlier if you wish).
Work your way up through the decades in order, going through a musical array of rockabilly, psychedelic jams, soulful piano ballads, '80s pop and '90s grunge.
You'll be guaranteed to hear a few exclaims of, "Oh my God, I haven't heard this in ages!" 
2. Games
The best drinking games are sometimes centered around intellectual conversations as opposed to games of beer pong.
Memory challenges can be hilariously fun in groups of four to eight. If your guest count is higher, introduce the Wink Murder game, which can be played throughout the evening.  
For slower-paced and less alcohol-centered fun, it's difficult to go wrong with a classic game of poker.
Run through the rules and hand rankings beforehand to ensure that everyone knows what to do.
Texas Hold 'Em is usually your safest bet if you're a poker newbie. (Pun intended.)
Just be cautious because a combination of cocktails and the right company might prompt someone to suggest that stripping be included in the game.
At least strip poker is considerably racier than strip Monopoly.
3. Decor And Dress Code
Make no mistake; the two are closely connected.
The setting and decor of your party should determine the dress code, so think closely about the theme you want to pursue before you send out the invites.
Don't bombard your party venue with glitter, sequins and confetti if your guests will only end up getting bits of them stuck in their very expensive lace dresses.
Similarly, you don't want guests arriving in ridiculously colorful party suits if they're going to end up feeling out of place amongst your avant-garde and tastefully minimalist decor.
So, are you going full disco with neon light projectors and mirror balls, or are you opting for "retro-quaint" and polka dots in an homage to the '50s?  
If you're still unsure what to advise your fashion-conscious friends when they ask about the dress code, quote Karl Lagerfeld's philosophy: No one is ever overdressed or underdressed in a little black dress.
4. Food
Everyone knows that one person whose idea of "party food" involves Cheetos in plastic bowls. 
A true host to a first-class cocktail party will go the polar opposite and put considerable thought and care into providing guests with a selection of canapés and tapas.
Consider dietary preferences: Are there certain guests who are vegetarian or gluten-free?
Accommodating for everyone can be a nightmare, but it is guaranteed to impress.
5. Drinks
I like to have a martini. Two at the very most. After three, I'm under the table. After four, I'm under my host.
— Dorothy Parker
I'm saving the most important bit for the last: It's time to talk about the cocktails.
They're more sophisticated than alcopops and cheekier than fine wine, so there's really no down side to serving cocktails at your party. 
That is, excluding the potential burden of cleaning the bathroom after that one person who always has five too many.  
DrinksMixer is an excellent online source for cocktail recipes.
Starting your own home bar is not always advisable, but it might be worth stocking up on the most common spirits and liquors while encouraging your friends to bring along their personal favorites.
Next, if you're really serious about being the queen of cocktail parties, invest in a bartender mixer set and cocktail glasses.
They don't have to be flashy, and you don't have to be a genius to use the mixing equipment.
A woman's choice of cocktail can say a lot about her, so what are you going to serve?
Light champagne cocktails, or the types of drinks that mix three kinds of alcoholic beverages and a suspiciously colorful syrup you've never heard of?
Dainty martinis or creamy piña coladas?
Maybe you're a traditionalist, and therefore will comprise a menu of Manhattans, cosmopolitans and negronis.
Maybe you're the experimental type, and will make up a cocktail from your very own imagination.
The world is your oyster.
Though it may sound like a tacky cliché, the main way to become an excellent party host merely involves having fun and going with the flow.
Are your guests comfortable, well-fed, smiling and just that right amount of tipsy?
Sounds like you've got a party worth going to.