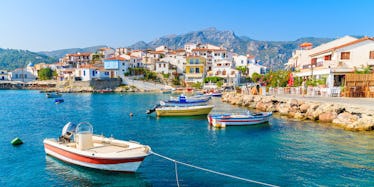 11 Reasons You Should Book A Flight To Cyprus If You Can't Wait For Summer
Shutterstock
After trips to both Greece and Turkey, I knew that Cyprus was high on the list of places to visit. It's a place not many Americans travel to, and I had heard little to no firsthand information about the country. After spending a month there in November with beautiful weather every day, I am dying to go back.
So, if you're sick of the cold locales of the world, here are 11 reasons you should seriously consider visiting Cyprus:
1. High Chance of Sunshine
On Holiday Weather, I noticed Cyprus had an 80 percent chance of sunny days in October, and a 61 percent chance in November. That was a higher chance than almost anywhere else I had found in Europe.
The weather is consistently sunny all year, and rainy days are extremely rare. And you know what they say: Suns out, buns out.
2. The Beautiful Beaches
Cyprus has all kinds of beaches to please every kind of traveler. Between the crowded beaches, white sand beaches, quaint beaches and party beaches found throughout Nissi Beach to Coral Bay, you won't be disappointed. In fact, you may even be a little overwhelmed by all of the options. Don't worry; they're all beautiful.
3. The Adventure
Itching for an adrenaline rush? Cape Greco near Ayia Napa features over 32-foot high cliffs that are great for jumping and diving off of (if you're brave). Jumping off of these will give you a serious rush. If you're not much for heights, there are many great hiking and wildlife spots throughout the region.
4. The Food
Your heart will surely thank you once you incorporate a Mediterranean diet. Who doesn't love local olive oil, flavorful hummus and fresh pita bread? It's hard to narrow down a must-eat in Cyprus because the local cuisine is all great and fresh. There are certain Cypriot specialty dishes you shouldn't miss, however. Halloumi cheese and lamb kleftiko are must-haves.
5. The Coffee
Traditional Cyprus coffee is no joke, and it is something that should certainly be had while on the island. Coffee is brewed in small, long-handled pots, and it's served in teacup-sized glasses.
The coffee is quite strong, but you can choose to have it either medium or sweet. It is also always served with a glass of water. If something lighter is more your fare, opt for a frappe. It's a delicious concoction of Nescafe, milk, sugar and water blended together. Cypriots do take their coffee very seriously, with the coffee shops usually being packed more than the bars.
6. The Friendly Locals
Yasas! There is no shortage of smiling Cypriots on the island. The locals are friendly, welcoming and very hospitable. Greek is the most commonly spoken language on the island, so brushing up on a few words will get you far. If not, then don't fear. Most Cypriots will be happy to converse with you in English.
7. The History
If you're a history buff, then visiting Cyprus should certainly be on your radar. Cyprus has had a long, complicated past, ruled by many different empires for over 3,000 years. There are many archeological sites like the Tomb Of The Kings, Paphos Archaeological Park and the city of Amathus to explore.
8. The Culture
The two main nationalities that make up Cyprus are Greek Cypriot and Turkish Cypriot. The two main languages spoken are Greek and Turkish, although the majority of Cypriots speak impeccable English. You could travel to both Greece and Turkey, or you can just explore Cyprus and experience both cultures.
9. The Water Parks
If you're getting a little restless lying on the beach drinking daiquiris, then head over to one of Cyprus's many water parks. Families, friends and children alike can enjoy the thrills and spills at the water park. Go in the off-season to enjoy instant access to the rides, as there are virtually no lines.
10. Outside The Schengen Area (For Now)
This is a bonus for backpackers touring Europe for an extended period of time. Cyprus is outside of the Schengen Area, which is an area of the world that doesn't require a passport for entry. So, it will not count against the 90 days Americans are given while traveling most of Europe.
11. The Cats
There are cats everywhere in Cyprus. They roam the streets during all hours, and they will never turn away some human love (or food). I normally hate seeing stray animals, but the weather is so mild and the people are so friendly that there is no doubt in my mind most of the island cats are treated like royalty.
It's not commonly known that Cyprus is, in fact, an independent nation. When I tell people about my trip to Cyprus, the general response is, "Oh, and how did you like Greece?" Cyprus is not Greece, and Cyprus is not Turkey. It deserves to be recognized internationally for the beauty it brings.
This article was originally published on the author's personal blog.