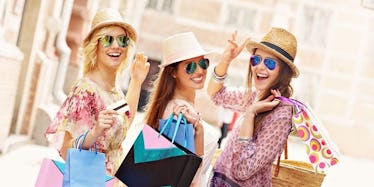 10 Best Labor Day Beauty Sales You Have To See IRL To Believe They're True
Kamil Macniak/Shutterstock
Labor Day may mark the end of the summer, but it's also the gateway to incredible savings and deals. Maybe companies don't want us to be too bummed out and know that retail therapy is always comforting. Getting a good deal is not only fulfilling, but saves you money on items you're most likely going to buy in the future. Many of these Labor Day beauty sales are so unreal that you may have to pinch yourself a few times to convince yourself that you aren't in a dream.
Ladies know all too well how pricey beauty products can be, but you're not willing to risk altering your beauty regimes because of the price tag. Of course product consumption isn't at the top of our priority list, but if we can get the products we love using at an amazing price, why not splurge a little bit? Think about it, the next time you can snag deals like this probably won't be until Thanksgiving and Christmas. And we all know those holidays hardly have anything to do with the things we want. So, before you think there's nothing great about summer ending, take a look at these Labor Day sales that'll have you scurrying into the new season.
1. Ciate London
When you can see your reflection in your mani #mirrormani pic.twitter.com/KB87oWfrna — Ciaté London (@ciatelondon) May 26, 2017
During Labor Day, expect to get 20, 30, and 50 percent off certain lines at this spectacular online store. Having an extra day off just signed you up for a day of sifting through great buys. "Discounts" is literally your new middle name.
2. Ulta Beauty's 21 Days Of Beauty
Get ready for three weeks chock full of new sales every single day on your favorite beauty products. Starting September 3, a new deal will reveal itself each day for 21 days. These awesome perks include amazing prices on your favorite brands, such as Urban Decay, NARS, and Tarte.
3. Peach & Lily
Oily skin ≠ Hydrated skin! Acne-prone skin still needs moisturizer! Get 25% OFF on all Kicho products with code KICHOSPECIAL** til 6/25! pic.twitter.com/xUopAq3vvE — Peach and Lily (@peachandlily) June 15, 2017
Until midnight on September 1 (west coast time), this online retailer is offering 20 percent off the whole store. No rush or anything, but if you're a diehard fan of the incredible skin products this company offers, don't drop the ball. Why the heck is midnight such an appealing time to pull the plug on things?
4. Urban Outfitters
We all know there are a lot of awesome finds at Urban Outfitters, but there's a lot more than cute bralettes and trendy jeans to purchase here. For their sale, find discounted Stila, Luna Bronze, Milk Makeup x UO, Nudestix, and Sigma Beauty. Your beauty bag will be looking oh-so-fine after jumping on these insane beauty deals. While you're at it, the store is also offering an additional 30 percent off of all sale items.
5. MineTan
Still don't want to let go of that beautiful summer tan? For the entire weekend, MineTan is offering 20 percent off its entire website. Get your hands on your favorite tanning foams.
6. Kneipp
All of this online store's body washes and hand creams are just $6. In addition, body oils and body scrubs are buy one get one free. Still gotta stay moisturized when those colder months set in.
7. Jurlique
Our Skin Balancing Face Oil is lightweight but powerfully moisturizing: https://t.co/mgJmBOAqry pic.twitter.com/w9H3hhUX6e — Jurlique USA (@JurliqueUSA) June 27, 2016
Want to get the most out of your dollars? When you dish out $65 at Jurlique, you will also get two of their top selling products and an exclusive sample of the brand's new Herbal Recovery Cream. Pampering your skin just got that much cheaper and affordable.
8. NYX
IG: angelarayson wears our Ultimate Shadow Palette in 'Brights,' 'Espresso' Micro Brow Pencil & Epic Ink Liner for her #EOTD pic.twitter.com/Hh8QeQODul — NYX Pro Makeup (@NyxCosmetics) August 14, 2017
Running low on lipstick? Certain lipstick styles will be sold two for $10 until September 4. Double up and don't even feel bad about it.
9. bareMinerals
Day to night … and back again: We've got you covered. #bareMinerals #SolarEclipse2017 pic.twitter.com/xDlqs9Ikrx — bareMinerals (@bareMinerals) August 21, 2017
Through September 5, how much you spend determines what amount you get docked from your purchase. Get $10 off when you spend $50, $20 off when you spend $75, and $30 off when you spend $100. No pressure or anything, but have that wallet ready.
10. La Roche-Posay
Make sure to apply & re-apply #Anthelios Melt-In Sunscreen Milk to help protect yourself from harsh sun rays as you hang out by the pool. pic.twitter.com/118ujFJkhy — La Roche-Posay USA (@LaRochePosayUSA) August 13, 2017
It's never too late to stock up on sunscreen. From September 1 to September 4, customers will get 20 percent off all Anthelios sunscreen using the code LDW2017. Search their variety and find the one that works best for you. Labor Day sales are a bittersweet ending to the oh-so-loved summer. We may not have the sun to keep us company, but our good buys can do the trick for now.