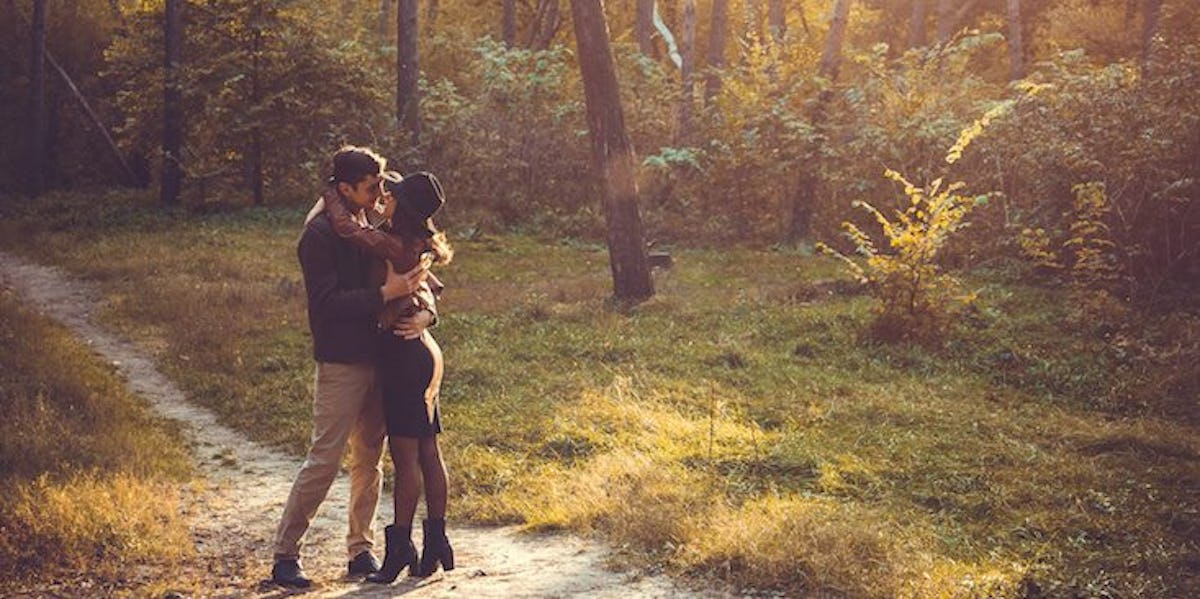 25 Best Fall Pictures To Take With Bae For The 'Gram That Are Anything But Basic
maryviolet/Fotolia
Between the fiery leaves and your cozy wardrobe, autumn is honestly the most beautiful season of all. It's warm even though there's a chill in the air, and it's intimate despite the hustle and bustle of holidays. Fall has just a little bit of everything, which is perfect for you and your bae to showcase your love in a few aesthetic Instagram photos.
Let's face it: Every adorable fall activity with bae deserves a picture. For anyone with a Pinterest board full of fall photography, a scenic couple's portrait is definitely number one on your list. The opportunities for a photo like this are endless as soon as summer ends, so take advantage of the natural beauty of the season. Here are some classic and creative fall pictures for you to take with bae that your followers will love.
1. A little artsy framing and a little rain go a long way.
A little autumn lovin Fernshaw, Victoria#portrait #photography pic.twitter.com/LyK2heigtf — aleksandarjason (@aleksandarjason) May 3, 2017
2. IDK what kind of grass that is, but it makes for a gorgeous photo.
3. Make the gloomy weather a little less gloomy with a sweet kiss.
| S A I N T | #larioja #she #beautiful #autumn #sonya7 #portrait #vsco #vscofilm #instagood #folkportraits #pla… pic.twitter.com/Srl3LxaqmV — Bruno Rilova (@brunorilova) December 13, 2016
4. The warmth of the season can be captured indoors, too.
5. Who needs bright colors to make a fall portrait?
Forest couple by JaakkoSorvisto autumn,trees,forest,portrait,girl,light,tree,beautiful,fall,couple,green,canon pic.twitter.com/L24aFjBBDZ — Todleho (@todleho) December 13, 2016
6. Capture your autumn adventures for a more personal portrait.
7. A little bit of color and a whole lot of love makes for a stunning photo.
Baby it's cold outside... #canada #winteriscoming #engaged #autumnportraits #fallcolour #g… https://t.co/2BXN21wZ5y pic.twitter.com/bcq2IO3KTG — Anne Edgar (@anneedgarphoto) November 23, 2016
8. Kick up some colorful leaves for a fun photo.
9. Find a spot that makes it feel like you're the only two people in the world.
I loved this couple! #fall #engagemens #photography #military #virginia #beautiful #weddings #love #portraits pic.twitter.com/c434GjdO05 — Tiffanie-Marie (@TMarieFord) December 19, 2014
10. Go on an autumn adventure with bae to share with your followers.
11. Sometimes, simplicity is your best bet.
Please RT #weddings #brides Fall engagement shoot at Bok Tower Gardens in Florida https://t.co/qVlsHFzczX pic.twitter.com/lZTI0flu0Z — Weddings MAG (@weddingsblogs) July 27, 2017
12. Don't be afraid to share a sweet moment like there's no one with a camera around.
13. Dressing in fall colors will only enhance the mood.
Please RT #weddings #brides Fall Engagement at Chaumette Vineyards & Winery https://t.co/Utt1ZZTbox pic.twitter.com/TvIqFBxSwu — Romantic Wedding (@romanticwedd) June 8, 2017
14. Have fun in the leaves like you're just two children, and the adorable photos will follow.
15. Don't be afraid to get a little goofy.
#tracyshoopmanphotography #harrypotter #hogwarts #easttnphotographer #engagement #photography #couple #thebridelink #love #fall #wand #cloak pic.twitter.com/yd0fzzkTFs — Josh Shoopman (@JoshShoopman) April 15, 2017
16. Capture a candid during an outdoor coffee date.
17. A candid laughing shot is always adorable.
Late Fall Lafayette Park Engagement Photo Session https://t.co/dYgGoaR8vR pic.twitter.com/nFASaterYw — Jaimie Nicole Krause (@picturejaimie) April 5, 2017
18. Matching flannels? YES.
19. The beauty of autumn complements the colors of all kinds of love.
The only thing more beautiful than the colors of fall are the colors of love! Don't miss this engagement session: https://t.co/zwa5wUVQqI pic.twitter.com/jzQz7Z3s1S — Love Inc. (@LoveIncMag) February 11, 2017
20. Showcase the things you and bae love to do together.
21. Take a zoom-in on those adorable fall accessories.
Annika & Curtis' fall #waskesiu #engagementhttps://t.co/InwYBhZfoX pic.twitter.com/iyd8HhHAX9 — Sask Ever After (@SaskEverAfter) February 8, 2017
22. When there's an amazing view, your followers have to see it (whether the view's of the treetops or bae is up to you).
23. Use fall foliage as a natural frame.
Still swooning over this fall engagement session!  #fallcolor #engagement #beautiful pic.twitter.com/hOq6q3BcEb — SchneiderPhotography (@schneiderbrides) January 11, 2017
24. Include your best furry friend for the ultimate cuteness factor.
25. Your followers know your faces; sometimes, a less personal photo says just as much.
Here's to weekend spent with the one you love. Don't miss this gorgeous fall engagement on the blog now: https://t.co/sG1tSUNijy pic.twitter.com/NRGeDntzh1 — Love Inc. (@LoveIncMag) January 8, 2017