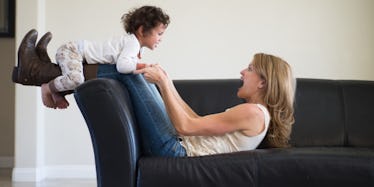 5 Reasons Why Being A Godmother In Your 20s Is The Best Baby Fever Fix
Let's be honest: We all felt a tinge of jealousy when we saw the pictures of Taylor Swift lovingly gazing at her brand new godson, Leo Thames (the second child of Jaime King and Kyle Newman).
You might have also had flashbacks to the unbelievably fabulous baby shower Tay threw Jaime.
And, if you are anything like me, you started thinking about how amazing it would be to have Tay as the godmother of your child.
After all, for most 20-somethings, being a godmother is much more fun than being a mother during this time of our lives.
No 20/7 diaper changes, plenty of sleep and being able to spend the majority of our money on ourselves are just some of the perks of being childless. So, why is it more fun?
1. You can embrace baby fever without the lifetime commitment.
Baby fever is real, and anyone who tells you it isn't just hasn't gotten there yet. I used to think it would never happen to me, that I would be content with letting my ovaries go stale.
Then, I turned 24. Everywhere I look now, there is an adorable baby or toddler I have to refrain from hugging.
Being a godmother means you can refocus all of this need for baby love onto your godchild, without having to worry about most of the parenting responsibilities.
2. You can experience a trial run of parenting.
When you think about it, it's almost like a parenting trial run.
As a godparent, you can visit with your godchildren, play with them, babysit them and maybe watch them while their parents go on vacation.
But, at the end of the day, the responsibility of raising the child isn't yours. You are a little bit like your favorite aunt.
You are around for the highs and the lows, but cleaning up the mess isn't something you're tasked with 24/7.
3. You get to do the spoiling.
In fact, as a godparent, your role is to spoil! Think about all of the tiny toys, soft blankets and hours of cuddling headed your way.
Yes, there may be a stinky diaper wedged in there, but there is something so calming about sharing a quiet moment with your godchild.
There will be squeals of delight, baby giggles and huge smiles in your future.
4. You get to watch the child grow.
You now have the pleasure of watching this baby turn into a functioning human.
You will be there to hear all of the tales of parenting woes and agony, as well as share the moments of joy and success.
You will see this child grow from a diaper-wearing infant to a sassy and personality-filled toddler. And later, you will watch your godchild turn into a functioning member of society.
You are responsible for helping shape his or her view of the world, dreams and life.
5. At the end of the day, you go home alone.
After all of the fun is had, you get to make a graceful exit and head home to a bottle of wine and your comfortable bed.
There will be no midnight diaper changes or feeding, no wailing (unless it's yours) and no need to sleep with one ear angled at the baby monitor.
You have gotten to spend quality time with your godchild, but you also have the pleasure of being able to return the baby to his or her parents.
You can then sneak off to do exactly what you want, a luxury most parents do not have.
Now, this isn't to say being a godparent is all fun and games; there is some serious responsibility that goes along with it, too.
Should anything happen to this child's parents, make sure you are ready and willing to step up to the plate and be there for the child in whatever capacity is needed.
And remember, take the time to enjoy the best things about godparenting without worrying about the future.