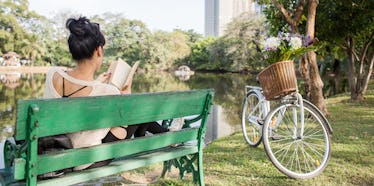 No More Netflix: 25 Ways To Enjoy Being By Yourself Without Being Lonely
Sometimes, it just happens: One friend has a business trip, the other has to go home for her uncle's retirement party and your current f*ckboy has just ghosted you.
You have the whole day to yourself. What the hell are you supposed to do? While Netflix is always a fantastic option, here are some other alternatives:
1. Go to an art museum.
You can sit on a bench whenever you want to ponder a work of art, even though you know you're only doing it because your feet hurt. Plus, you get to take as long as you want to get the lighting right for your next Instagram.
2. Make your own jewelry.
There are tons of cool jewelry workshops popping up. You get to pick the materials, stones and beads you want. There's even someone there to help guide you through it. End the day by creating a masterpiece.
3. Go on a shopping spree.
You don't always need someone with you to help you decide if something looks good. If you don't automatically like it, then you probably won't ever wear it.
There. That's the only piece of advice you need to successfully shop by yourself.
4. Go to a new restaurant.
There is great peace in eating a meal without having to keep up a conversation or stare at a screen. Take the time to talk to the waiter and decide what you should try. Then, you'll pay more attention to the flavors of the foods you're eating.
5. Read in the park.
Who doesn't love to get a little sun and fresh air? Plus, you can actually make progress on that book you started months ago, but only got through the first chapter. Bring some fresh fruit to enjoy, too.
6. Try cooking a new meal.
Go through all your meal pins on Pinterest, and pick one that takes a little more effort. While you're picking up groceries, pick yourself up a nice rosé. All great chefs enjoy a glass of wine while they're cooking, right?
7. Take a cooking class.
I probably wouldn't be ready to attempt the above unless I wanted to throw away the security deposit on my apartment. Who knows? You might meet a cutie who wants to improve his cooking skills, too.
8. Plant some herbs.
This will go along with your new cooking skills. Wouldn't that be impressive? You could just whip out your own herbs while you're cooking with your new beau.
Just do it. It'll blow his or her mind. But make sure you read the instructions carefully.
9. Go on a day trip.
Drive to that little town that you heard has the best homemade pie and goldmine thrift stores. Strike up conversations with locals, and find out all the best spots to hit up before you head home.
10. Feng shui your apartment.
Change can be very refreshing. Go through some things.
Yes, even your closet. It will feel good to minimize and put items away that don't really need to be out on display.
11. Make a DIY craft to add to your décor.
Create something that you'll be proud to tell your friends you made. Besides, what's the point of collecting a whole Pinterest board if you never actually do any of the things on it? Get out the glue guns.
12. Paint a picture.
Get in touch with your artistic side. Pick up some paint colors that match your vibe, put on some music to match and let it flow.
See what you come up with. If it turns into a disaster, just hang it in the bathroom.
13. Go on a hike.
Get some fresh air and mix up your workout routine. Tip: Pick one with a steep incline to get an awesome butt workout. Just make sure you stretch those glutes afterward.
14. Spend the day with dad and mom.
Your parents love you, and they are there for your every need. Show them you care by going home and making them breakfast. Sit on the porch with them, and yes, let them beat you in a game of chess.
15. Volunteer for your community.
There are a ton of volunteer opportunities if you just look for them. Ask around at your work to see if your co-workers can get you in touch with anyone. Otherwise, just Google search on your own.
16. Go to a winery.
Learn how to pour, swirl and actually taste wine. Besides, after the tour, you can order a whole cheese plate for yourself and enjoy it in front of a green view.
17. Visit the pet store.
Play with some puppies. You'll get them all to yourself.
Being in a room with six Labrador puppies jumping on you and giving you kisses sounds like a dream. Go make it happen. But don't end up impulse-buying one of those cuties.
18. Show a tourist around.
There are always travelers on CouchSurfing who are looking for a local to show them cool spots. Show off how much you know about your city, and spend the day visiting all of your favorite cafes, restaurants and viewpoints. Maybe even go to that museum you've always intended to go to.
19. Play photographer for the day.
Walk around your town and take pictures of every little thing you find beautiful. It will make a great memory album in case you ever move away.
20. Go thrift shopping.
Find an old trunk to sand down and repaint. Maybe you'll find a dress that could be amazing with a little stitching. At the very least, you will be able to find a fancy tea set to impress your mother with.
21. Find new music artists.
Sometimes, we all need a little inspiration in our lives. Music is the perfect way to achieve that.
Scour Rolling Stone and NPR articles to learn about some new artists coming on the scene, and spend the day in your underwear listening to them.
22. Have your own spa day.
Always wanted to try a homemade avocado mask? Me too.
Whip some of that sh*t up. Then, you can take the time to prep your cuticles and soak your feet to give yourself the perfect manicure and pedicure.
23. Start a blog.
We all have something to say. Think about it: You can talk about your life.
Make yourself into a teacher of some sort, whether that topic is budgeting, balancing a social life, etc.
24. Create a how-to video on YouTube.
It feels good to share your knowledge with others. I'm sure there is some sort of tutorial you can share with the world.
Who knows? You might find a new hobby.
25. Turn that damn phone off.
We spend more than three hours each day on our phones. That's ridiculous and disgusting. Dedicate those hours to something rewarding and productive.
These are doable, right? So, the next time you feel like your life is ending because you have no one to hang out with, realize that it's not.
You will make it through the day. Close your eyes, take a deep breath and see what number your finger lands on. You will feel so independent, and you'll realize that being alone really isn't that bad.
So, go and embrace your day. It's just for you.