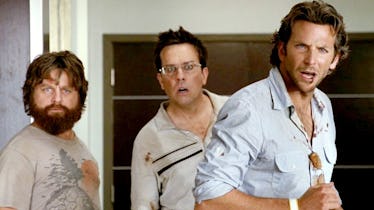 Here's What Actually Goes Down At Bachelor Parties, According To 10 Grooms
Warner Bros Pictures
I kind of imagine all bachelor parties to be like clones of the movie "The Hangover," in which the groom goes wild and ends up missing. Even if he's accounted for the entire night, I imagine there's more alcohol consumed than at a frat party and strippers dancing in thongs (to the "Thong Song," of course).
Since I'll probably never get to go to a bachelor party (though I'm adding that to my bucket list of things I want to experience in this lifetime), I'm left to guess and assume what actually happens.
That's why I begged 10 grooms to confess what really happened during their bachelor parties:
1. We got stuck in the hotel room.
I always wanted a bachelor party in Cancun because I was never able to make it over there for spring break when I was in college. So, that's where we went. But when we got there, there was a giant storm, and it rained for three days straight. We ended up staying in our hotel room, downing bottles of tequila and playing every card game known to man.
— Harrison, 27
2. It was exactly like "The Hangover."
Let's just say someone should have made a movie about my bachelor party. We lost one guy and ended up finding him a day later at the hospital because he had alcohol poisoning. Another guy ended up going home early because he got arrested. We got kicked out of three clubs in South Beach. It's safe to say I was the most well-behaved.
— Greg, 28
3. I kissed a stripper.
My wife doesn't know this, and I've had to bribe so many of my guy friends not to tell her three years after the fact, but I kissed a stripper at my bachelor party. She was off duty, and we met her at a bar. The guys ended up paying her a couple of dollars to kiss me. It was a quick kiss, but still. If my wife ever found out, it would be the worst.
— Brendon, 27
4. Who even remembers?
How am I supposed to tell you what happened at my bachelor party? I don't remember anything once we landed in New Orleans. It is seriously all a blur from there. I was drinking the whole plane ride over and didn't stop drinking for two days straight, until the plane landed back home.
— Kyle, 26
5. We were in bed by 9 pm.
The truth is, we were in bed by 9 pm both nights. We golfed all day and then went in the ocean before dinner. After that, we were too exhausted to go out to a bar or a club. Plus, it wasn't the vibe I was going for. I didn't want my wife to know how boring it was, so I told her we got bottle service and stayed out 'til 4 am both nights.
— Paul, 29
6. I lost $10,000.
Vegas for a bachelor party is never a good idea. OK, fine. It's a great idea. But if you go, leave your wallet at home or freeze your bank account. Whatever you do, don't do what I did, which is lose $10,000 at the casino tables. My wife knows I lost a lot of money, but she thinks I only lost $2,000.
— Trevor, 29
7. I took too many shots.
My bachelor party was only one night. I had it at a local bar in my hometown with all my college buds. This is a bar I go to at least once a week, so they know me pretty well. They had lines of shots waiting for me when I got there. I think I took 13 shots of vodka in 30 minutes. Two hours in, I was puking everywhere.
— Vinnie, 28
8. I texted my girl the whole night.
I missed my soon-to-be wife the whole time. I sat in the corner of the bar and texted her. It was kind of pathetic, since we all spent a ton of money to go to Los Angeles for the weekend.
— Carl, 29
9. Nobody showed up.
Two of my groomsmen couldn't afford to come, and two other groomsmen had plans that night to go to a wedding. I pretty much ended up having my bachelor party in Denver, with just my brother and my dad. It wasn't a total bust, but it wasn't what I ever imagined it would be.
— Michael, 30
10. It ended in the emergency room.
Let's just say I ran up quite the emergency room bill that night. I got into a fight at the club and broke my arm. I told my wife I broke it by playing football with the guys.
— Lucas, 31