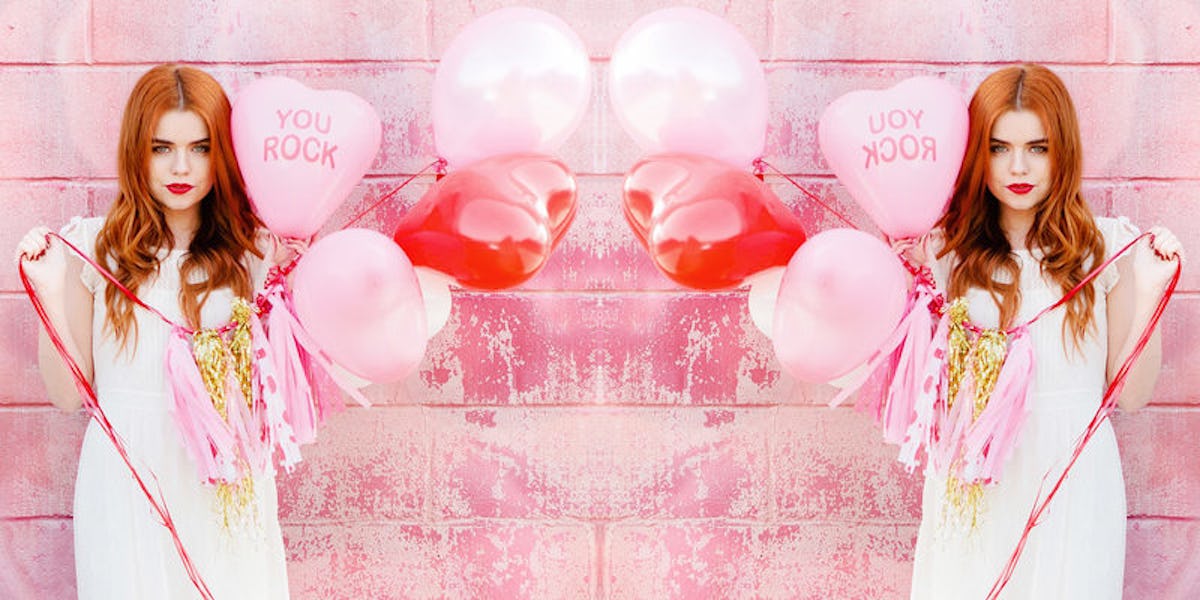 5 Apps To Help You Throw A V-Day Party For All Your Single Friends
Friends are the family you choose for yourself, and Valentine's Day has an amazing way of bringing this to light.
Whether you're by yourself this Valentine's Day or with a significant other, it's important to remember that Valentine's Day is about celebrating love.
It's not about celebrating the flowers and chocolates you got from the local corner store.
However, even with that in mind, as February 14 creeps closer, we still can't help but wonder if we'll be spending yet another Valentine's Day alone.
Being single on Valentine's Day doesn't have to be depressing.
Because Valentine's Day is all about celebrating love, there is nothing wrong with pampering yourself with your own special lovin' and chocolate on this romance-infested holiday.
If munching on chocolates and enjoying a relaxing spa day isn't quite your thing, then — like all things in life — Valentine's Day is most enjoyable with friends.
Single or not, celebrating with the friends you adore will make this Valentine's Day a lot more endurable than spending it alone.
Before you shrug this off as another "dumb idea" for single people, remember: You're probably not the only one in your friend group who will be single and spending the holiday alone.
Of course, there isn't a set of rules about how you should spend Valentine's Day.
But throwing a friendly party is definitely worth considering.
The happy vibe and love that emits from the room is part of what makes celebrating Valentine's Day with friends so special.
Looking for some inspiration to start your own Valentine's Day party?
Here are some fun ideas to get you inspired:
1. Potluck
Potlucks are the best dinner parties because everyone brings something to the table.
To make your Valentine's Day sweeter, have everyone bring dessert only.
Dessert is the best part of the day, and as adults, you're allowed to have dessert first (or for breakfast, lunch and dinner).
The BigOven app offers a variety of different recipes you can follow to create delicious, heart-shaped sugar cookies or your favorite family dinners.
The step-by-step recipes (complete with images) make baking and cooking a fun and easy experience.
Not having an SO breathing down your neck and complaining you're burning the food is also a plus.
2. Games
Card games are always fun to play, but they're not always as much fun alone.
Cards Against Humanity has always been an all-time favorite at parties, and it tends to draw laughs from all around the room.
Make your game more exciting this year with Black Cards.
Black Cards is an extended version of Cards Against Humanity, and it allows you to create your own cards.
To make the game more difficult, set up a rule where everything written has to be love-related.
3. Scavenger Hunt
Scavenger hunts aren't for the weak.
Add a little Valentine's Day twist to your scavenger hunt by revolving it around items your friends love. (After all, it is the holiday of love.)
Try creating the clues entirely out of inside jokes to see if your friends remember the little details of your friendship, or set up a great grand prize to get everyone excited to win.
The Klikaklu Player app allows you to create custom scavenger hunts, complete with picture clues within the app.
After it's created, you can then share the hunt privately with your friends and family.
If you're too lazy to hand-write your clues, this app will surely make your life a lot easier.
4. Party Theme
Give your Valentine's Day party a theme.
Themes can vary from heart onesies to ugly love sweaters.
Ask all of your friends to dress the part, and have a contest to see who has the best outfit.
Catch up with your friends as you all take turns decorating a wall filled with memories of the things you love about each other.
Of course, no creation can be complete without a "family" picture.
To take the personal aspect up a notch, print out pictures of you and your friends to hang on the wall.
Photo editing apps such as PerfPix can also help you touch up and hide blemishes before you print the pictures.
5. New People
Friends are all out of town? Don't have enough friends to start a Valentine's Day party?
No worries, there are plenty of people in the same boat.
Meet new friends and crash their Valentine's Day parties with Friendable.
Friendable is the app that allows you to make new friends and plan events near you. Through this app, you can set up a private event and invite your friends to help you plan it.
Meet new friends for the holidays, and take your new friends to meet your old friends.
Valentine's Day is about celebrating love and creating memories that will last a lifetime.
With all your friends in one place, Valentine's Day will change your whole holiday experience.
Sure, Valentine's Day can be filled with sappy love notes and be completely awful, but it doesn't have to stay that way.
Every holiday is what you make of it.
If you think about it, your options are either staying inside and moping about how awful it is to be single on Valentine's Day, or celebrating the day with friends you love.
Make the best of Valentine's Day with all your friends.
Nothing's better than being single together.