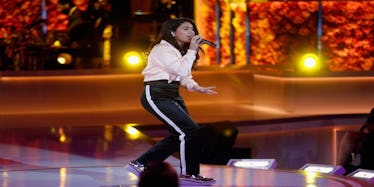 Alessia Cara Ripping Her Hair And Makeup Off At The VMAs Is All Of Us On Friday Night
Getty/Thos Robinson
As a fashion and beauty fanatic, I spent the majority of last evening's MTV Video Music Awards ceremony debating whether Lorde's fairytale princess look or Amber Rose's dark brunette wig was the bigger aesthetic curveball. It didn't even occur to me that the most impactful beauty statement made that evening could be a lack of makeup. Then, Alessia Cara took her hair and makeup off at the VMAs DURING her performance of acceptance anthem "Scars To Your Beautiful," thereby becoming Queen to every woman stumbling home after work or too many vodka sodas on a Friday night.
Here's how it went down: the 21-year-old Canadian singer, nominated for multiple awards including Video of the Year and Best Dance, appeared on stage in a one-shoulder scarlet gown and short black wig. After 20 seconds, dancers wearing black latex masks rolled in and ripped off her dress and faux hair, which is weird, because that's usually what happens to me, too. Finally, Alessia whipped out one of the most clutch inventions ever, a makeup wipe, to wash her face in front of roughly 6 million viewers. I'm lucky to do that in front of a guy I'm somewhat dating, let alone the entire world.
Here's an instant replay of Alessia thoroughly scrubbing off every trace of makeup.
I MEAN, WOW. Of course, Alessia isn't the only singer to release music extolling the virtues of loving yourself and eschewing society's reductive beauty standards. But taking literal action to manifest lyrics like "you should know you're beautiful just the way you are," in front of the world, is the truest form of walking the walk we've seen since Alicia Keys went makeup-free. And if you weren't already bowing down to Alessia, this morning, Aug. 28, the singer answered the burning question on everyone's mind: What kind of makeup wipe was that, tho?
Her prompt response, spreading the gospel of hydrating argan oil, cements her status as Girl Crush Number One.