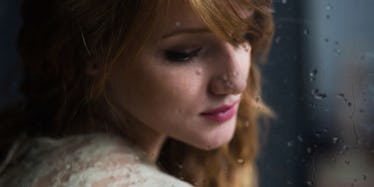 You're Not Afraid Of The Future, You're Afraid Of Repeating The Past
Jovana Rikalo
Most of us don't have the courage to admit this, but life is very scary.
Fear is a necessary part of life. Our psyche depends on it to hold us together. Without fear, we die.
Surely, there must be some sort of logic to us being programmed with this unpleasant, nerve-racking experience. We fear because it has the ability to move us faster and further than any other emotion. It propels us into the inevitable future.
For some of us, fear causes us to search, to create, build and connect. For others, it causes us to lash out, maim and destroy. Others still decide they can out run or hide from it, only to spend their lives living in it.
Fear shapes your life more than anything else. Your fears mark the points at which you either faced and overcame what you feared, or you didn't. They either mark a turn onto the next path or the moment when you missed an exit. In the end, they draw out the map of your life.
One of the things we fear the most is the future. We don't know what it holds, and worse yet, there is no possible way of knowing. It's the unknown, the mysterious.
But that's not what we fear the most. Because when it comes to the mysterious and the unknown, there is a chance there's a monster roaming around in the dark, but there is also a chance there are butterflies and rainbows.
So no, it isn't really the future you fear. What scares the crap out of you is your past.
While the future is, at least to us, unwritten, the past has been set in stone. There's no undoing what's been done. There's no changing the things you wish you could change. You have no choice but to live with the past you created for yourself, and no choice but to accept all the resulting consequences.
The past weighs heavily upon many of us. We often come to see it as a burden, something we must carry along with us everywhere we go. But that's far from the truth.
The past was a point in time, an exit we either took or missed. It no longer exists, not as far as we're concerned. You can let go of the past, because the truth is, you don't need it.
Your life was set on this course, but it doesn't need to stay on this course. The next exit is coming up. Your next fear is waiting to test you, waiting and hoping -- yes, hoping -- you overcome it. You have to understand you don't fear harming yourself -- you fear bettering yourself.
Don't look at fear as something negative. Fear is meant to help you. So, fear your past. Let it move you. Allow it to make you try new things, to do things you never imagined. Let fear drive you towards something better, something that makes you happy.
But don't bring your past into the future. You shouldn't even be bringing it into the present. The present is a gift -- the gift of being able to redirect your life and move towards a better future for yourself.
If you're afraid of repeating the past, then don't. That is, quite literally, all there is to it.
Today's habits, the things we do, the choices we make, they are what make tomorrow an inevitability.
Life can be better. You can learn to turn fear into excitement. You can be driven, positive and happy. I swear you can. I don't even know you, but at the same time I know you better than you know yourself. I know you can accomplish things you've never dreamed of before.
How do I know? Because you're no different than me. So matter how much my past scares me, no matter how far away I may be from where I want to be, I'll get to where I'm going. So will you.